Use Crosstab Analyses to detect significant differences in your data by downloading various data files to work with offline. Compare banners across multiple questions, obtain the specific p-values, and view full details of your survey's statistical tests.
Exporting Crosstabs
Click the type drop-down to select from Significance Test (t/z-test), Correlation Scan (Chi-squared), or Raw Numbers.
Click the Select a banner drop-down to add your desired banners.
If necessary, adjust each slider to change the primary and secondary confidence levels.
Click Run Significance Test to download the excel file.
Note: if you choose the Raw Numbers export, no statistical analysis will be performed - it will only include the raw data with the applied banners.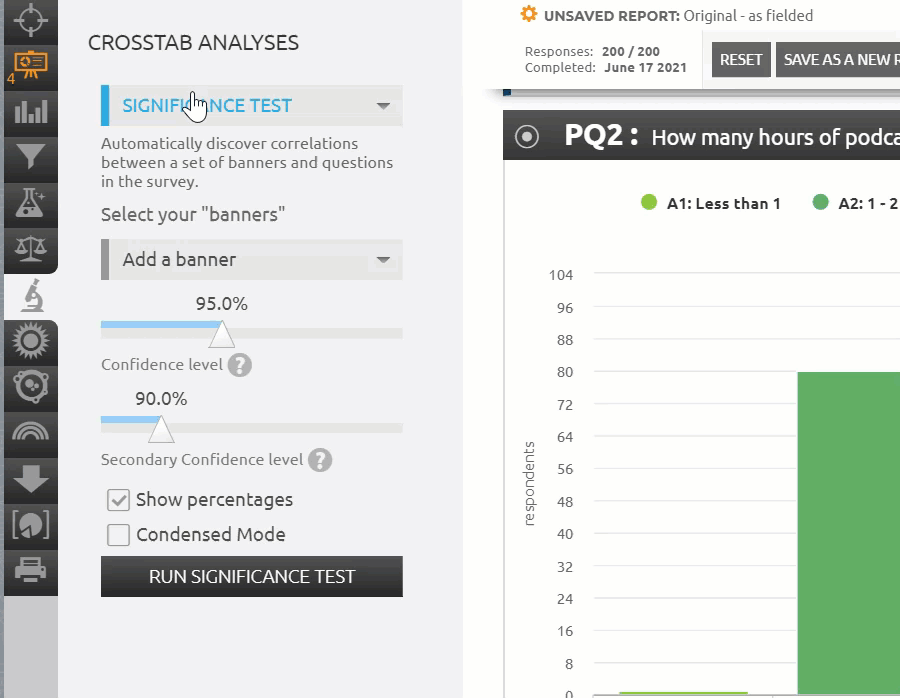 ---
Significance Test Export
On the Significance Test export, the first sheet is the data with statistics included. The banner and its associated groups will be viewed as columns, and as you scroll down you can see how the respondents who fell into each split of the banner answered all other survey questions.
Download this example .xls file - Significance Test Export
Click the tab labeled Legend to view the notation and color keys:
If respondents in a cell are more likely to do or buy something in a different cell of the group at the primary confidence level (by default, 95% or higher), it will be highlighted in green. Their counterparts (indicated by a letter in the cell) will be highlighted in a lighter shade of green as they support the primary confidence level.
If the cells are white but the text is bold, this represents a statistically significant difference at the secondary confidence level.
If the cells are white but the text is grey, there are no notable significance differences.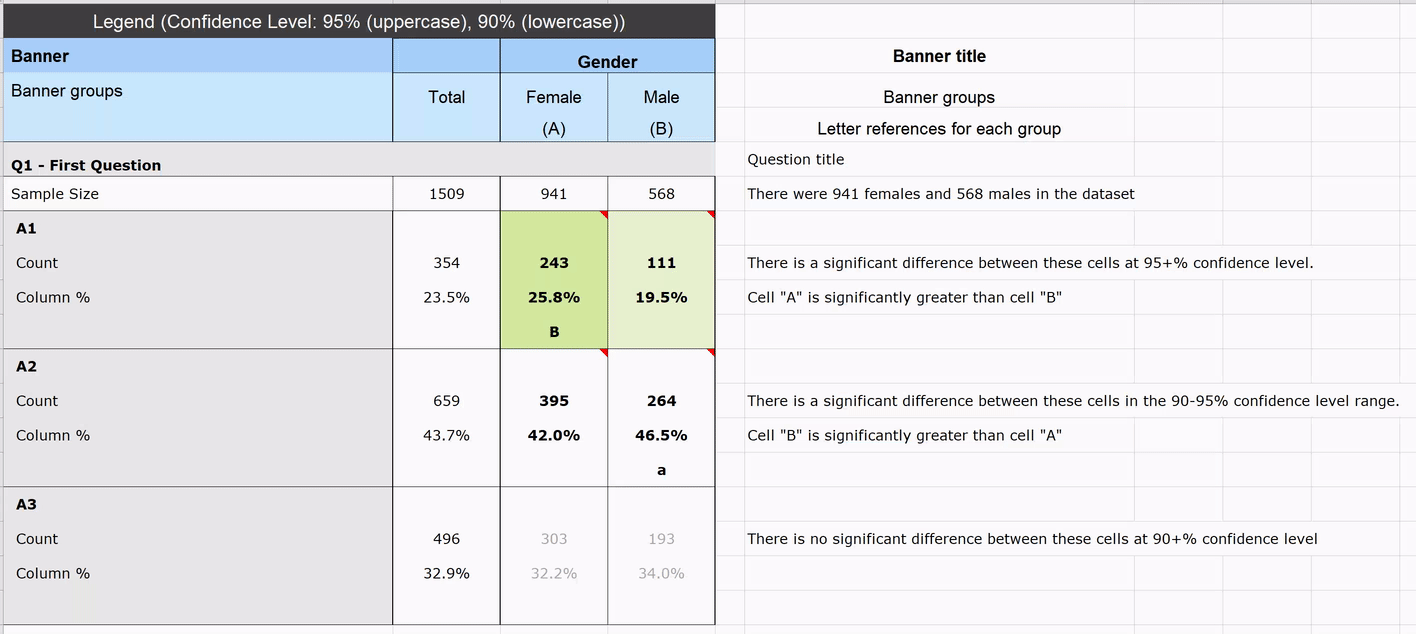 ---
Correlation Scan Export
On the Correlation Scan export, the Excel file contains the selected banner(s) as columns, and questions as rows just like a significance test, with the notations for the statistical test used in the analysis (chi-squared) presented in the upper left corner. Because chi-squared tests assume independence of cells, you'll only see colored shading when the null hypothesis – which is that the banner and attribute are completely independent – is rejected.
In other words, there is statistical significance in the colored cells, which indicates the banner and attribute may be related. The coloring of the cells indicates which cell has a higher incidence (directionality) and the intensity of color indicates how strong the correlation is.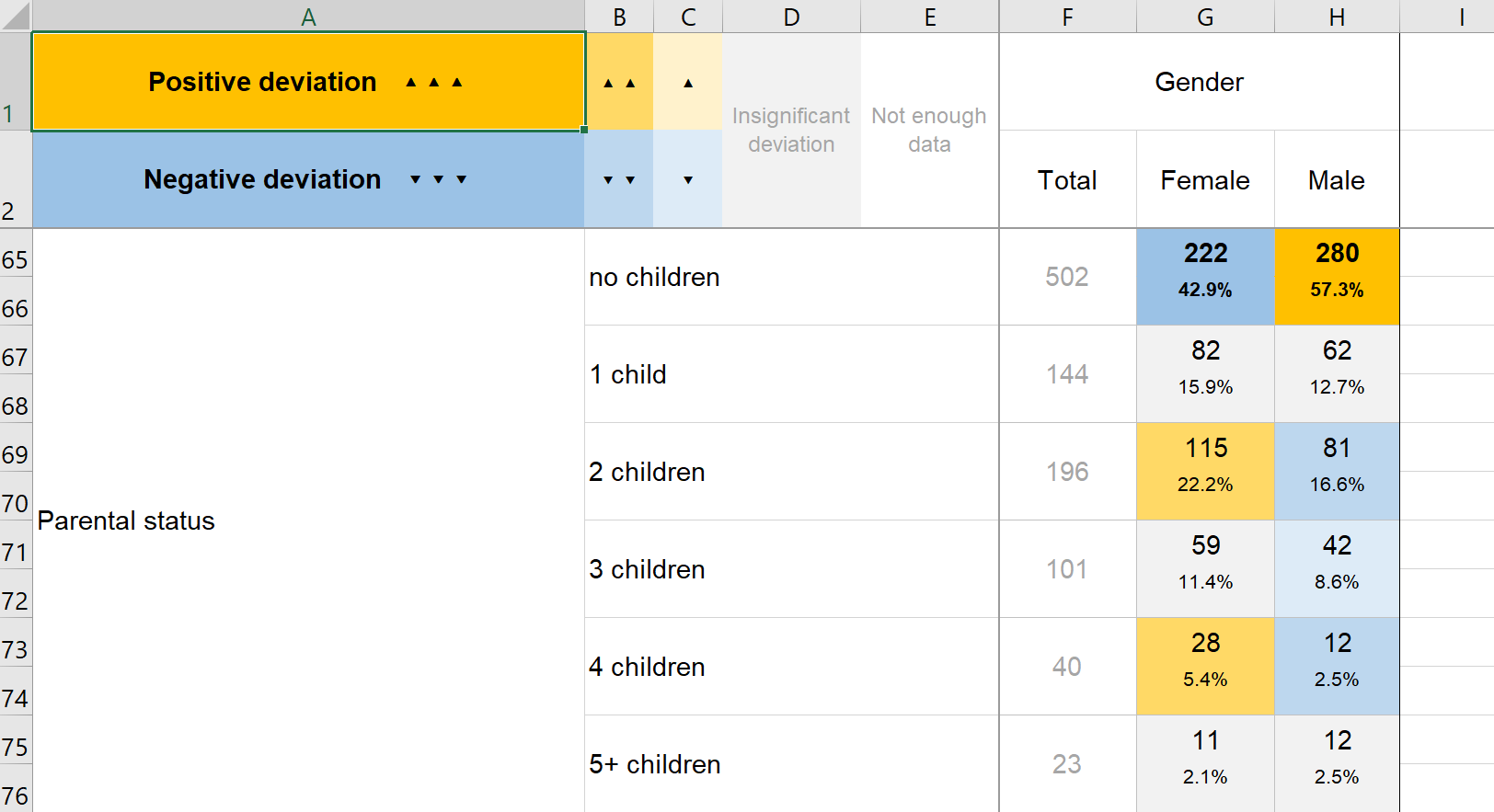 ---
Condensed Mode
For both types of analysis, check the box next to Condensed Mode to remove the totals from your export spreadsheet, leaving percentages only. This feature is useful if you're building your charts from scratch by copying and pasting rows from aytm's export.
Note: significance test, single banner (gender), 95%/90% CI. Normal mode on left, condensed mode on right.