Radio Button (Single-Choice)
Use the radio button question type when you need respondents to select only one option from a set of possible responses.
Want to learn more about our question types? Enroll in our Question Types Overview course in the Lighthouse Academy!

1. Building a question
In the Survey Editor, click the Radio button Icon in the question menu, or drag the icon into place.
Type or paste your question into the Question field.
Type answers into the Answer field, and click the + icon to add additional answer options, up to 15. Use copy/paste to automatically populate answer options.
Hover over the answer number and click the X to delete an answer.
Activate the Randomize checkbox to shuffle the answer orders for each respondent.
Click the anchor icon to the right of an answer option to lock the option in place on the list, despite randomization.

Note: if you have more than 10-12 options, consider using our Combobox, which will allow you to create a custom single choice drop-down box.
Further customize your question view by adding Images.
---
2. Analyzing Radio button results
On the results page, data from radio button questions displays as a bar chart.
Hover over the bars on the chart to see deeper statistics.

Click the chart menu in the upper righthand corner of the answer window to visualize answers in a Pie, Column, Percent Column, Bar, or Percent Bar Chart.

All response details are displayed beneath the chart.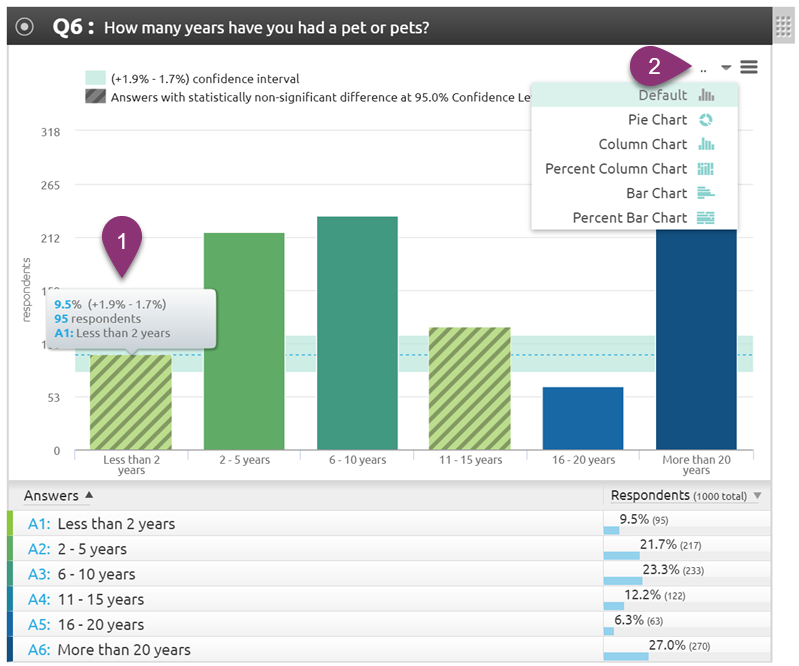 Take a test drive on real-world results for this question type! Explore a live demo report.