Building an Advanced MaxDiff
MaxDiff tests are helpful when comparing a long list of alternatives. You can add between seven and 200 alternatives for respondents to compare in sets of three, four, or five alternatives per screen.
Building a MaxDiff
Click the MaxDiff icon in the left sidebar, drag it into place, or select MaxDiff from the New Question Menu at the bottom of the Survey Editor.

Type or paste question text into the Question field.
Type of paste between 7 and 200 items into the Alternatives to Compare fields.
Click the drop-down to the right of the Question field to select Aggregate or HB mode.
Click the Reorder drop-down to determine whether respondents will Reorder items, select Best/Worst (text) from each set, or select the best and worst from an Image Grid.
Click the second drop-down to determine how many items respondents will see per screen.
Note: Depending on the mode, total number of items, and items presented per screen, the number of questions used per MaxDiff test will update below the question.

---
Selecting methodology
aytm's Advanced MaxDiff has two modes to choose from: Aggregate (formerly Express) and HB (Hierarchical Bayesian). If you would like to use our TURF simulator with a MaxDiff you will need to select the HB option.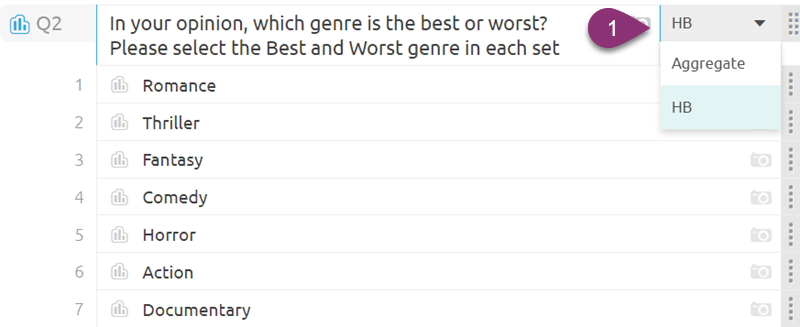 ---
Best Practices in MaxDiff
Since ranking a long list of alternatives can be a repetitive task, it's best to let respondents know what to expect. Consider adding an Instruction Text question before the MaxDiff test to let your respondents know what's coming, and/or about how long it will take, especially if the experiment takes 6 or more questions.