Need help with a specific question type? Using logic? Understanding your results? We have an article for you on that and more!
Using Search
The easiest way to find what you're looking for in the Help Center is to use the search bar at the top of the page. The search form is available within all pages of the Help Center so it's always easy to find.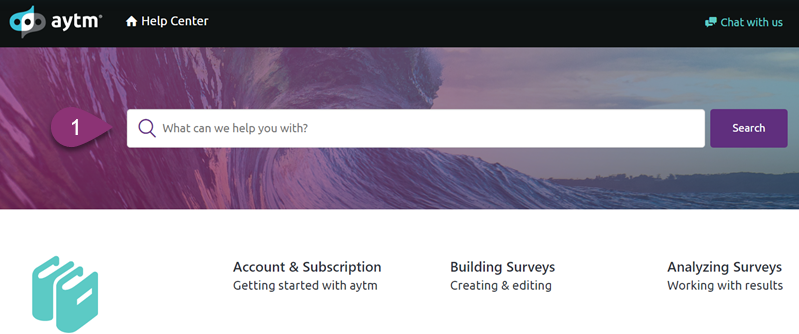 ---
Browsing Articles
If you're not sure what you are looking for, you can go to the Help Center homepage (click the icon next to the aytm logo in the header) and click on any section of content to see what it includes.
To see a list of all sections and their articles within a category, click on Knowledge Base or Insights Guides, which contain the bulk of our information.
As you read through articles, you'll often find related topics on the right sidebar, or linked within an article. Don't forget to use your influence to give thumbs up or thumbs down on articles as you read them.
---
CommandBar
From any Survey platform page (Dashboard, Target Market, Survey Editor, or Results pages), type Ctrl+K (Windows), CMD+K (Mac), or click the magnifying glass at the top of the page to utilize a platform-wide search of our Help Center, Videos, Tips & Tricks, and the Lighthouse Academy.
Type search terms into the What do you want to do? text field.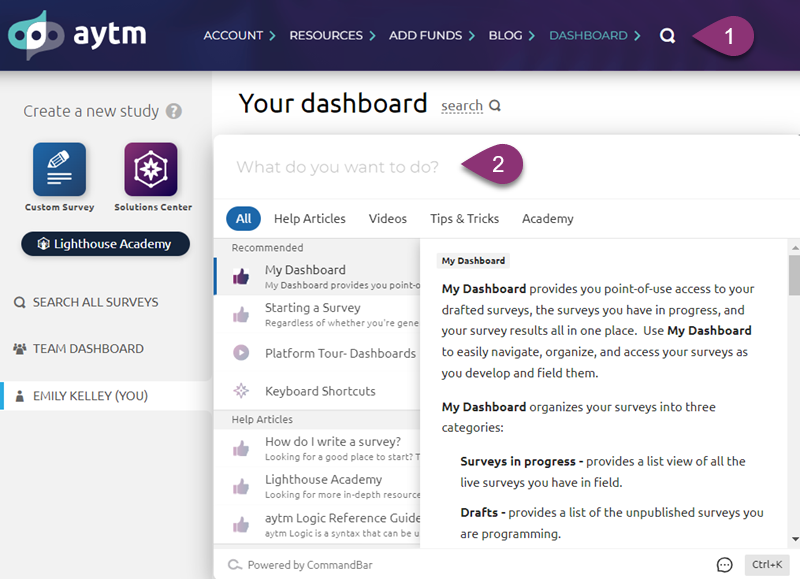 Still have questions?
If you still can't find what you are looking for, please reach out to our live chat or open a support ticket - links can be found at the top of the page. We are here to help!