Xpert: Ad creative evaluation
With the Xpert: Ad creative evaluation solution, narrow down a long list of ad options by presenting many images to respondents. This Xpert Ad solution is recommended for large groups of images, as this will not present a recommended ad, but rather, a set of the most popular ads out of all available options.
Note: if you have fewer than 10 images, consider using a Comparing ad creatives or Effective advertising ad test for deeper insights.
See more in the Solutions Center.

1. Adding ads for an ad creative evaluation solution
Find the Xpert: Ad creative evaluation in the Solutions Center, and click Get Started.
On the input page, click the camera icon to select up to 100 image files from your hard drive, drag and drop multiple images onto the camera drop-zone, or add files one at a time.
Type a name into the Please give this advertisement a name field, and add any optional text to appear as a caption for the image.
Check the Display the title of the advertisement box below the last ad to share this title with respondents.

Hover to the right of a placeholder or a programmed ad to remove it from the test.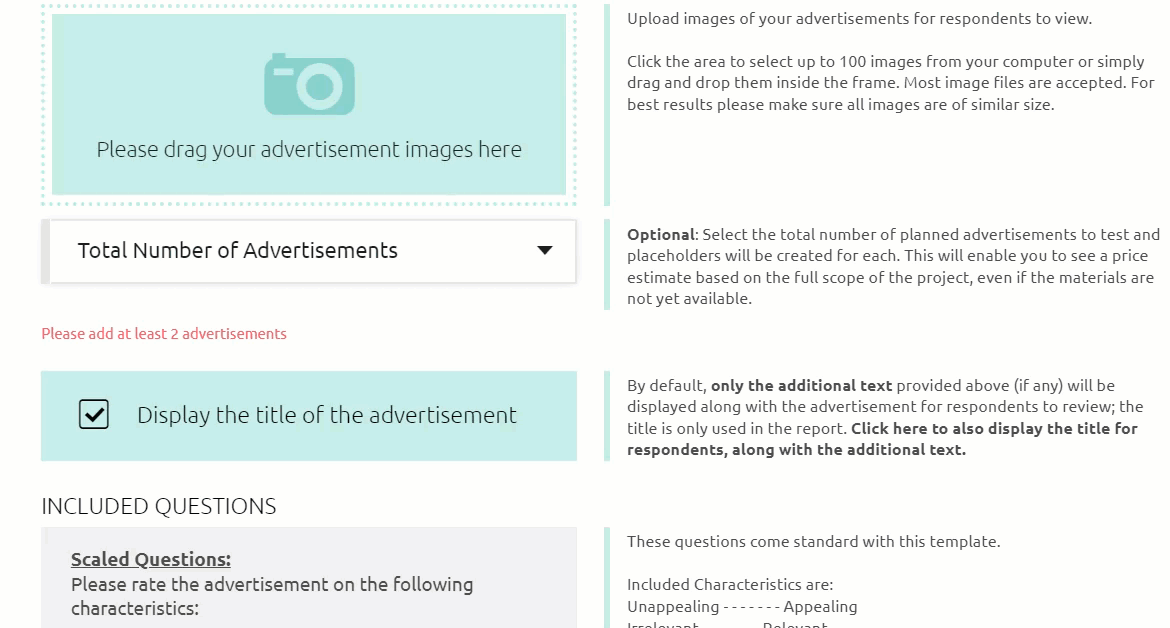 ---
2. Adding measures to included questions
For your reference, you'll see the two scaled questions that will be presented for each ad, and the attributes they measure. These questions are automatically included with every Xpert Ad test, but you can add other attributes to measure on a standard five point Likert scale.
Click the box next to

Measure additional characteristics about the advertisement

.

Type or paste up to 10 attributes that you would like to measure.
Note: Each attribute should be able to fill in the blank in the sentence displayed to the right of the text boxes, following the structure of the examples given.

---
3. Including Open-ended questions
Uncheck the respective boxes to exclude two additional, open-ended questions in your test. If included, these questions assess respondents' perception of the message of each advertisement, and/or ask them to share what they like or dislike about each advertisement in their own words.

---
4. Determining Sample size
Click the Number of Respondents per Ad drop-down to select how many respondents you would like to assess each ad.
Click the Number of Ads per Respondent drop-down to select how many ads each respondent will see in their survey, between 2 and 6.
The total sample size will update automatically, using the formula listed in the hint to the right of the Sample Settings section.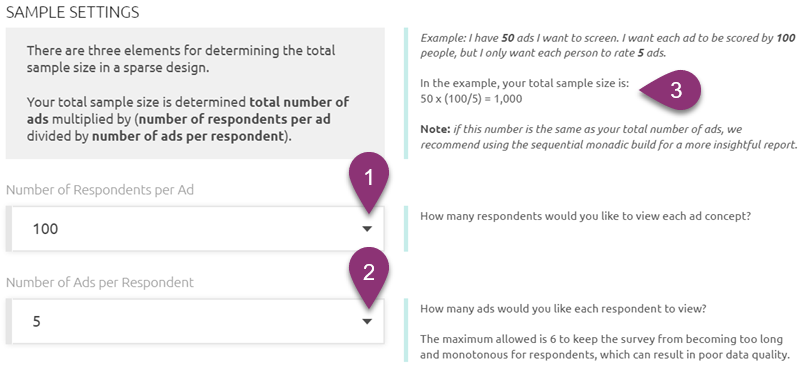 ---
5. Finalizing your ad test
Before launching your survey, be sure to preview, narrow down your target audience and Estimated Incidence Rate if needed, and add questions for any other information you'd like to collect on the Survey Editor page.