Xpert Ad Solutions: Screener Results
On the Results page, the Xpert Report is presented as the default report. The Original - as fielded report listed below contains the entire survey, including any additional questions you added to the Xpert Ad test. Of all the Xpert Ad solutions, Screener will generate the most basic report.
See more in the Solutions Center.

1. Objective and Methodology
Click on the Objective and Methodology headers to view the respective information, which will be included in any Powerpoint exports, so you can share the details of the ad test with your colleagues.
On the Methodology tab, click the first drop-down to choose how many advertisements you would like to narrow your list down to. As you select a different Top number threshold, the Xpert report will update results accordingly.

---
2. Recommended Advertisement
The
Recommended Advertisement
tab gives a narrative of your top number of advertisements, based on overall attitude–which is a composite score of Top 2 Box answers across all tested attributes.

---
3. Concept Lab
The Concept Lab section allows you to compare the Top 2 Box percent of each concept in a column view with all attribute percents, including your custom attributes.
Click the

Analysis

drop-down to view as

Indexing

or

Pairwise SigTest

.

Click the

Show

drop-down to display the

Top 3

performers, the

Top 25%

of performers,

All

ads, or choose

none

to clear all, and add them manually using the + button.

Click the

Rank by:

drop-down to sort performance by any of the attributes

, or click on the attribute in the lefthand column. The ads rearrange places, left to right, and the ranking attribute appears in bold.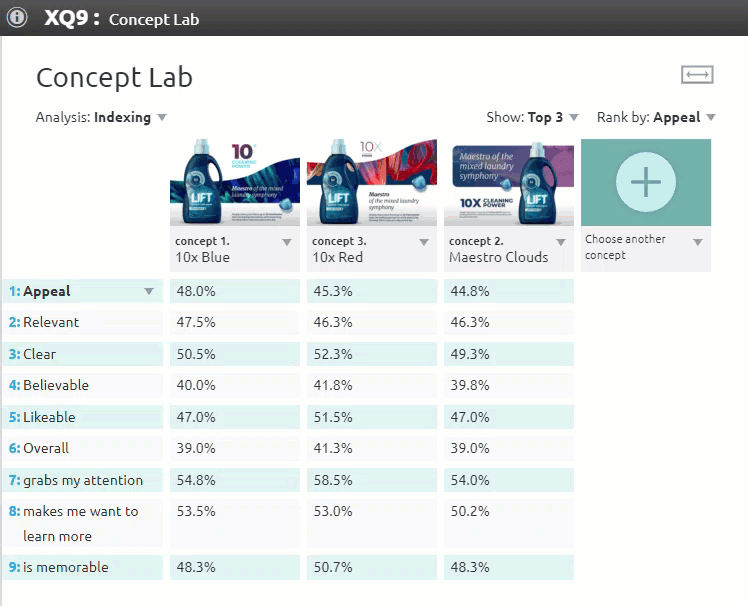 ---
4. Advertisement Details
For each concept populated in the Concept Lab, drill-down details are displayed in the next tabs. Scroll down to get to those details, or hover over the thumbnail in the Concept Lab, and click Scroll to details. This chart shows a bar graph of the Top 2 box results for all included attributes of a concept. Hover over the bars to see statistical significance, and scroll down to see line-by-line results.
Below the included attributes bar graph is a Top 2 box bar graph and line-by-line data for your custom attributes.
If you chose to include open-ended questions, the overall message summary, word cloud, and like/dislike word clouds will appear in this drill-down section, or, you can dig into verbatim answers on the original as fielded report.
If you would like to see these drill down details for each concept, make sure that all concepts are added in the Concept Lab section above.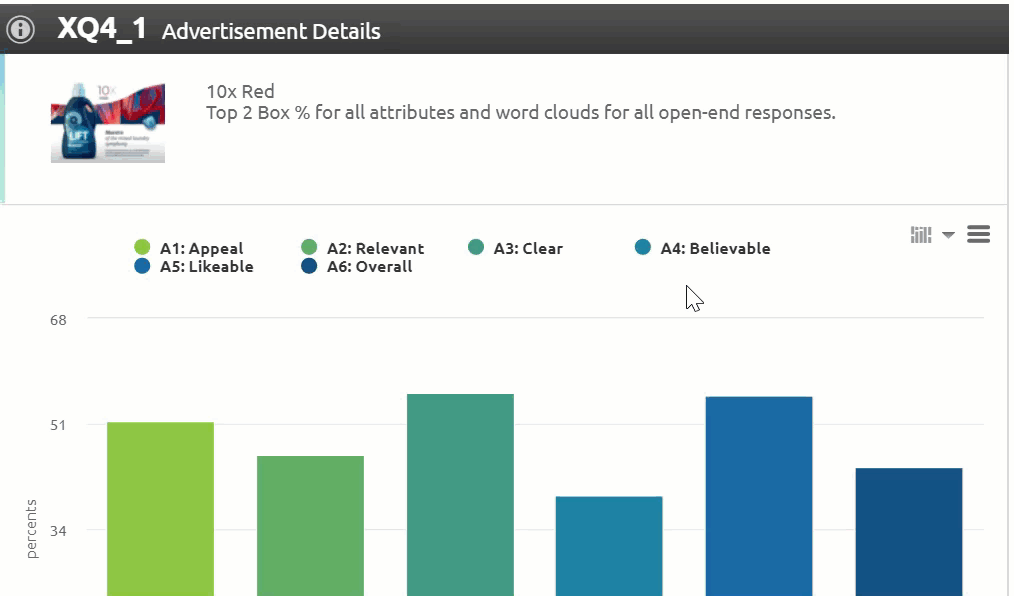 To further explore the results for Xpert Ad tests, go to the Original - as fielded report and utilize Virtual Questions and Correlation finders, or export raw data files.