Programming a Conjoint test
Learn more about Conjoint Research Tests in the Lighthouse Academy!

Building a Conjoint test
Click the Conjoint icon in the left sidebar, drag it into place, or select Conjoint from the + Add a Question menu at the bottom of the Survey Editor.
Type or paste question text into the Question field.
Click the drop-down to the right of the Question field to select Express or Segmentation mode.
Type or paste up to 7 items into the Attributes/Features fields.
Type or paste up to 25 items into the relative Attribute option fields.
Check the box next to N/A option to allow respondents to select none of the packages on screen for each task.
Click the packages per screen drop-down to determine how many packages each respondent will see per screen.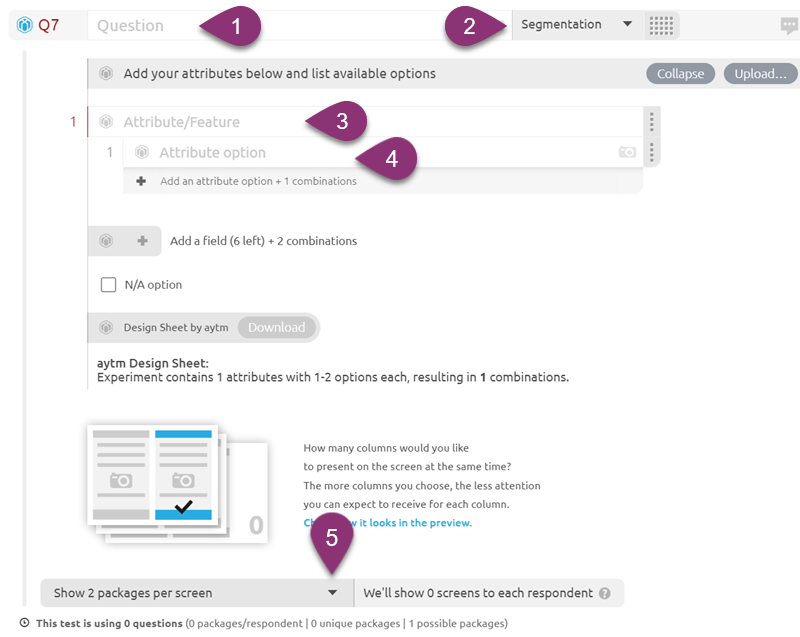 ---
Selecting a methodology
---
Best practices in Conjoint testing
Though the minimum number of responses required for accurate Conjoint testing is 400, we recommend ordering t least 750 to 1500 completes for more representative data.
As you add combinations, and change the number of packages per screen, keep an eye on the message at the bottom of the test that says how many questions the test is using.
To help combat respondent fatigue, add some Instruction Text before the Conjoint test to give respondents some context, and let them know what's coming next (e.g. "You will repeat this task 8 times.).