Combobox/Cascade Questions
The combobox/cascade question type allows you to obtain drop-down or drill-down insights from a single question that comes pre-loaded with a variety of options. Use this question type to pack hundreds or even thousands of items into a very compact survey element.
A Combobox is great for alphabetically or numerically organized lists of items with which respondents are already familiar, such as lists of countries, names, states, colors, etc. Keep in mind that a combobox is not designed or optimized for reading through a long list of unfamiliar items.

Cascade is an advanced question type that allows you to put an entire database into your survey, keeping answers organized while providing a very straightforward experience for respondents. With cascade, each time a respondent makes a selection, the content is limited to the relevant items of the next nested combobox.
Want to learn more about our question types? Enroll in our Question Types Overview course in the Lighthouse Academy!

1. Building a Combobox Question
In the Survey Editor, click the Combobox Icon in the question menu, or drag the icon into place.
Type or paste your question into the Question field.
Click the Custom data set drop-down menu to choose one of several pre-set lists or click Create/Edit to populate a list of your own in the text editor.
Note: If you have a list ready outside of the Platform you can use copy/paste to put it into the editor, or upload it as a .txt file. See the help bubble in the Survey Editor for more details.
Click the Combobox dropdown and select Cascade to create a cascading set of comboboxes with dependencies.
Note: If you are entering your own nested lists in the text editor, use the Enter key to create new answer choices, the Tab key to move one level deeper in the structure, and the Backspace key to move one level higher in the structures. Nested answers/lists will be moved along with the parent item you are moving.

---
2. Customizing Combobox and Cascade Questions
Hover over an answer line in the text editor and click the Open-Ended icon to allow respondents to give an answer in their own words (e.g. "Other, please specify").
Click the leaf icon to clone a branch of the Cascade.
Click Apply to save your list.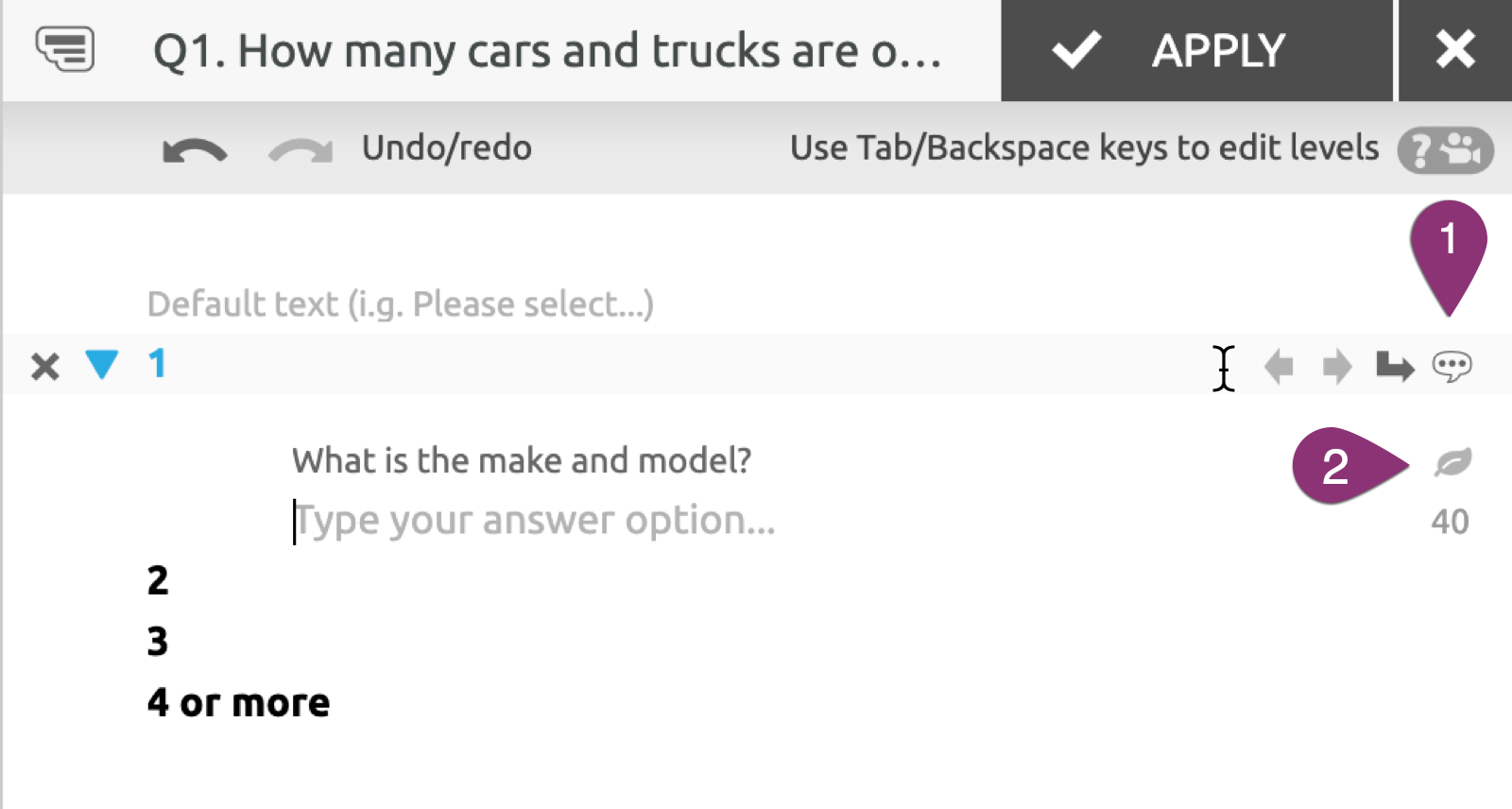 ---
3. Formatting .txt files
Upload your tree structure of nested lists in plain text (*.txt) format—preferably in Unicode—with each answer on its own line.
Use underscore _ before the lines that you want to use as a default text before the drop-down. Add (...) at the end of a line to allow an optional open-ended answer.
Use spaces or tabs to create the tree structure. If you created your structure using bullet points or numbered lists, please make sure you use unique bullet symbols for every level and then save to .txt, or copy and paste into a text editor such as Notepad before uploading.
Use copy/paste your structure into the editor instead of uploading your file. The maximum supported number of records is 10,000.
Note: the order in which answer choices appear in the list for each respondent with both combobox and cascade options cannot be randomized, even if global randomization is ON in the survey.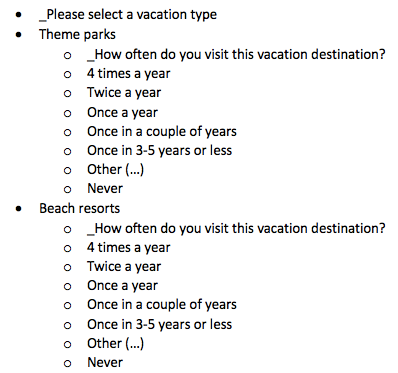 ---
4. Analyzing Combobox and Cascade Questions
On the Results page, Load word cloud, or see a line-by-line breakdown of answer options and the percentage and number of respondents who selected each option.

Click an Open-Ended icon to see any text responses.

On a Cascade question, click an answer on the line-by-line summary to reveal the nested answer options with corresponding statistics and word clouds.

Click the All button at the top of the word cloud to reset responses.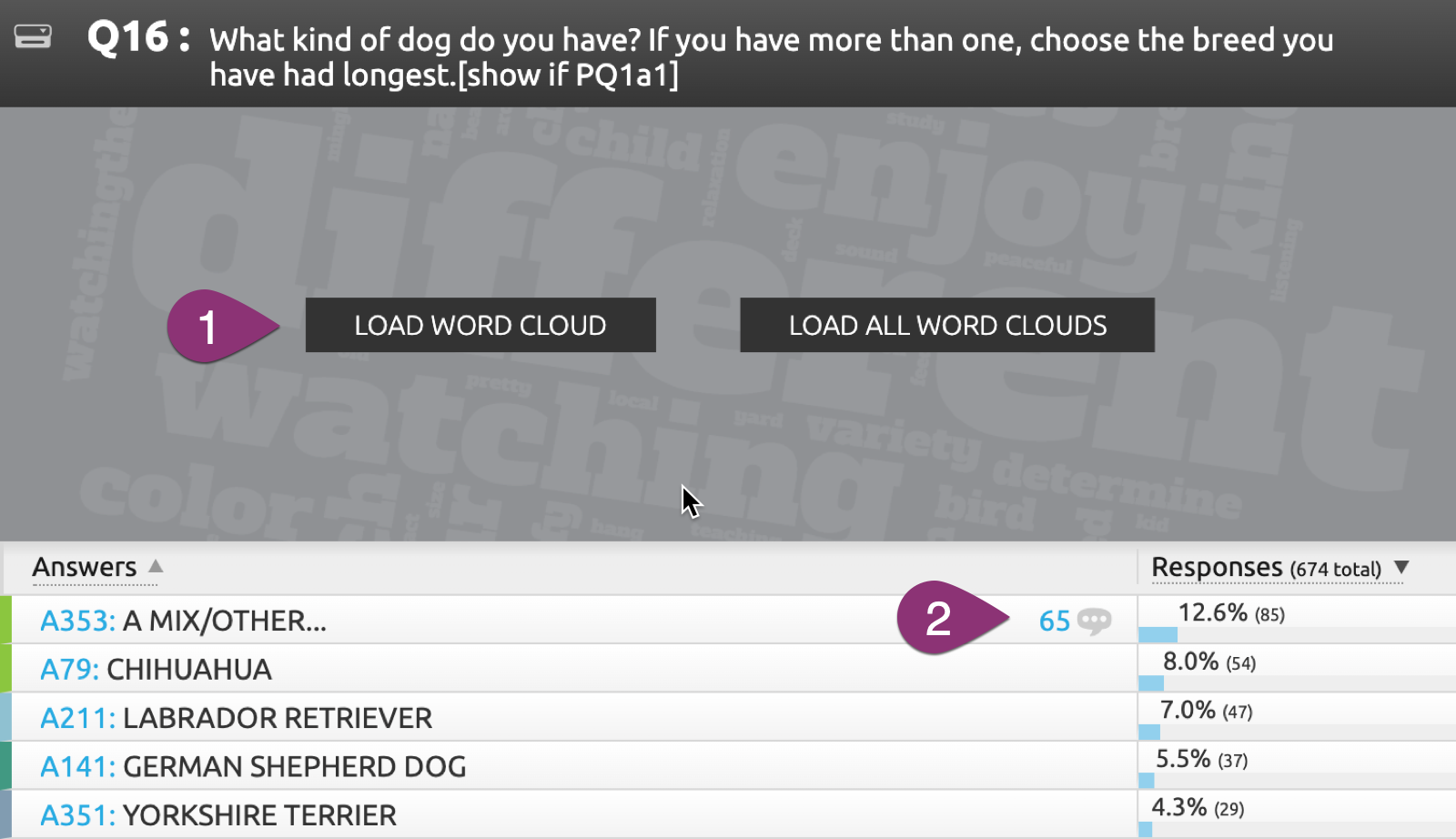 Take a test drive on real-world results for this question type! Explore a live demo report.