The reorder ranking question type is a great way to determine respondent preference among a list of possible options. Respondents see an easy to use drag-and-drop interface, allowing them to quickly rank options from top to bottom.
Want to learn more about our question types? Enroll in our Question Types Overview course in the Lighthouse Academy!

1. Building a Reorder Question
In the Survey Editor, click the Reorder Icon in the question menu, or drag the icon into place.
Type or paste your question into the Question field.
Type entities into the Item to Reorder field, and click the + icon to add additional answer options, up to 10. Use copy/paste to automatically populate answer options.
Hover over the answer number and click the X to delete an answer.
Activate the Randomize checkbox to shuffle the answer orders for each respondent.
Click the anchor icon to the right of an answer option to lock the option in place on the list, despite randomization.
Note: Anchoring is not usually recommended for this question type.

---
2. Analyzing Reorder questions
On the Results page, Ranking questions display as a summary bar chart, comparing all answer options against each other.
Click the

Stacked drop-down menu to view results as a stacked bar chart, an Area map, or by Score Average.

When

Stacked

or

Area

are selected, click the second drop-down menu to view each answer option as

Entities

, which display answer choices on the x-axis, and rank-order as the colored bars; or as

Positions, which visualize how many or what percentage of respondents rated each option as first, second, third, etc.
Note: When Score Average is selected, each answer option's average rank is displayed. Rank values are reverse-scored for this mean average; for example, if four items were ranked then first would have a rank score value of 4, second would be 3, third would be 2, and fourth would be 1. A higher Score Average indicates higher average rank.

Click the icon in the upper right corner of the answer option to visualize as a

Pie

,

Column

,

Percent Column

,

Bar

, or

Percent Bar Chart

.
Click Expand on an individual answer header to see a visualization of how a particular answer option was ranked across all responses.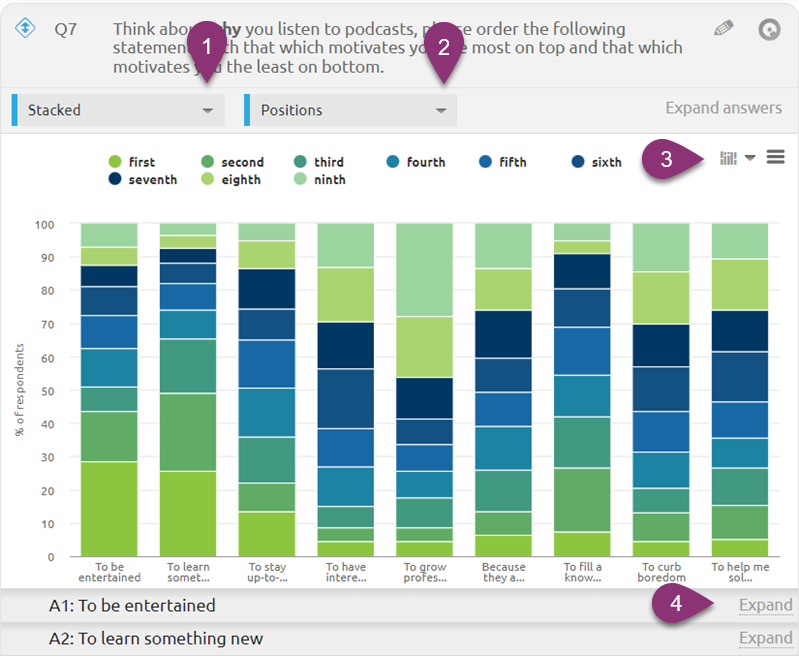 Take a test drive on real-world results for this question type! Explore a live demo report.