Using Exclusive logic, you can prohibit respondents from selecting certain answer options together in a checkbox question. Exclusive all will prohibit a respondent from selecting any other answer option with the one they have selected, similar to the N/A feature.
Learn more about Exclusive and Exclusive all in our Advanced aytm Logic course!

Exclusive
In an answer option text field, enter exclusive logic, using the reference for the answer option(s) you would like to prevent from being selected simultaneously. In this example, respondents who select Q1A1 (Oil-free) cannot also select Q1A2 (Oil-based). Respondents who select Q1A2 (Oil-based), cannot also select A1 (oil-free), A3 (Water-based), or A4 (Gel-based). While it is not absolutely necessary to add this logic, this ensures a single respondent does not give conflicting answers to this question.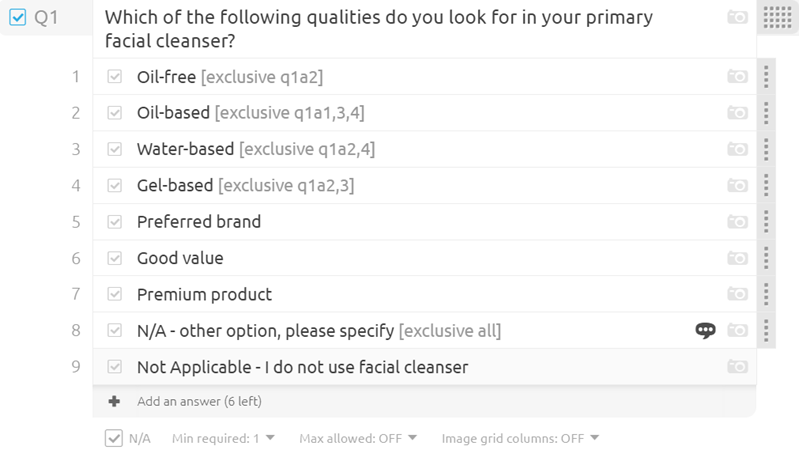 ---
Exclusive all
Exclusive all bars respondents from selecting any other answers in addition to the selected answer. In this example, if a respondent selects A8, they will not be able to select any other option. Additionally, we may choose to add a follow up question that uses logic [show if Q1A8].