Scoring logic is the common name for the ability to apply mathematical calculations to a custom variable created within a survey. Though its name implies the ability to create a running score based on answers given throughout a survey, it can also be helpful to think about it as the ability to create a basic "counter" in your survey.
Learn more about Scoring and other types of advanced aytm Logic on the Lighthouse Academy!

Basic Scoring
With questions and answers programmed, create a variable with a numeric value in a question that appears before the items to be scored.
Place logic in subsequent question or answer options using the created variable, basic mathematic operators (+ - / * ), and numeric values.
In this example, the variable called concept has a base value of zero. Respondents who select Q2A1 will add 1 to concept, resulting in a score of 1.
---
Combining Score with Show logic
One way to use scoring logic is to combine it with Show logic. You can selectively show questions or answers to respondents based on the score they accumulated in previous questions.
Type [show if score into the desired question or answer option, and use basic relational operators (= < > ≥ ≤) and numbers to designate which respondents might see the item. alternatively, use hide, skip, or other conditional logic in conjunction with Score.
In this example, when respondents arrive at question 6, they will have a score of between 0 and 4 for the variable called concept. If concept = 4 for a respondent, they will see Q6. If they have a score other than 4, they will proceed to the next available question.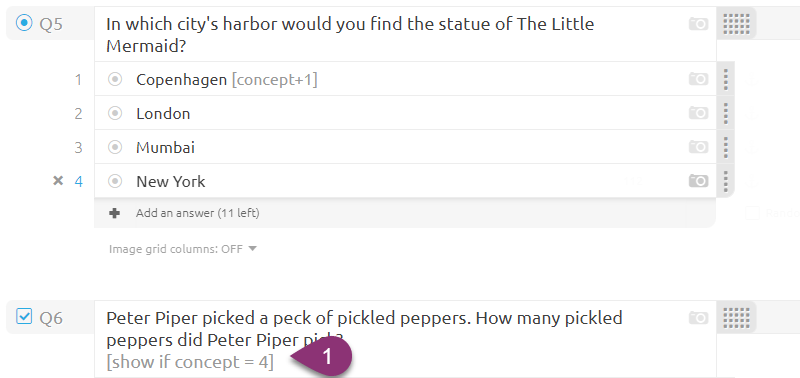 ---
Scoring on the Results page
When you have used scoring calculations in a survey, you will be able to use the created variable as a filter and as a Virtual question.
On the results page, click the Data Lab menu option, and drag a Virtual Question into place on your report.
Click the Optional Presets drop-down, and select your variable name from the list.
Adjust the answer options/groupings as desired, and click Generate Data. The data will display all possible scores, and the number of respondents who received each score.
Note: if there are more than 18 possible scores, you will have to program the VQ manually, or work within the raw data file.