Using the built-in Logic Guide
The aytm Logic Guide brings information from our Logic Reference directly into the Survey Editor. Search for logic syntax with descriptions and examples, copy and paste syntax with one click, and drag and drop live logic examples into a survey.
Using the Logic Guide
Click the Logic Guide Icon in the Collaboration Tools menu floating along the right side of the Survey Editor.
Type logic terms into the search field, and click on the topic you would like to explore.
Note: If your search terms do not yield any results, an error will appear. Try a different search term, or contact our Support team for additional help.
Click on the item that appears within in the dotted lines to copy the text, and paste it into the desired question or answer text field in your survey.
---
Viewing Live Logic Examples
Need an example? No problem.
Click and drag one of the example snippets that appear under the search bar into your survey, to see that type of logic in action.
Click the X that appears to the left of a question to delete it from your survey, or replace the text and images with your own survey questions and answer options.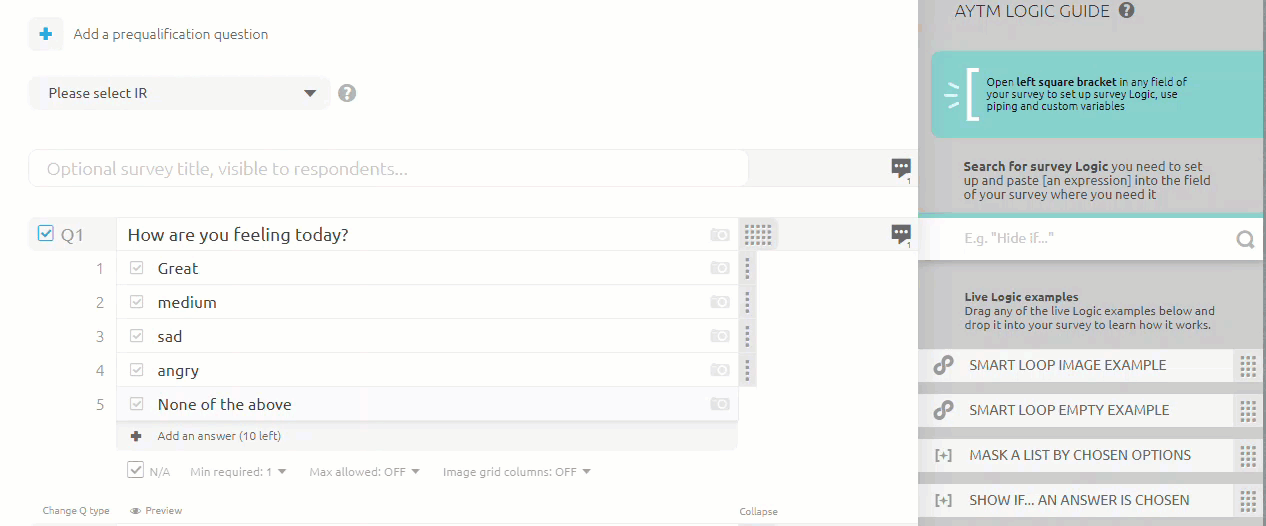 View the aytm Logic Reference Guide, download the pdf, or enroll in our aytm Logic course in the Lighthouse Academy!