Adding Images to a Question
Images are a great way of helping your respondent visualize something you are trying to get across to them. Use images to talk about a new concept, show a new product, or present new ideas. There are several ways to add images to a question or answer option.
For most question types, our platform supports PNG, JPEG, GIF, SVG, PDF, TIFF, and BMP. Images should be a minimum of 600px, but no more than 3600px. Keep in mind larger images may take a longer time for respondents to load.
1. Adding Images one at a time
Click the camera icon to the right of the Question field, or the respective Answer field.
Select a file from your computer, and click Open.

---
2. Adding Images in bulk
Select one or multiple images on your computer.
Drag the image files to the appropriate destination.
Note: If you select multiple files and drop them onto an answer option, they will load as respective answer options in the order they are found in on your computer.

---
3. Customizing Image views
Hover over an uploaded photo and activate checkboxes to allow respondents to Expand the photo, Scroll on a particularly long photo (such as an infographic), or delete the image.

---
4. Using Image grids
Images display as thumbnails by default; rolling over or clicking on an image enlarges the selection. Create an image grid to view answers as larger pictures, instead of as a text list of answer options with thumbnails.
Click on the Image grid columns menu at the bottom of a question.
Select the number of columns you would like your answer images to appear in.
Note: The Image grid columns dropdown populates the number of answers programmed in a question.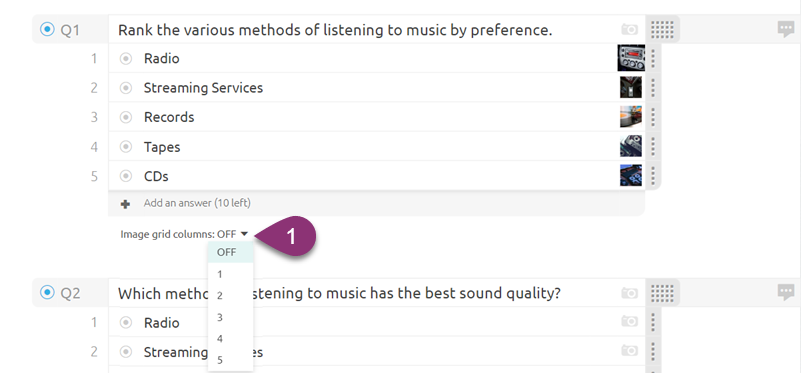 ---
5. Reusing Images
If you wish to use an image more than once, drag and drop images from one question to another, or clone the question with the images populated by double clicking the question handle.