The Sample Complexity Meter is found in the top left side bar of the Target Market page. As you input your audience specifications, the dial, your price point, and other survey details will adjust accordingly, and the survey summary details will continue in the same location on the Survey Editor page.
Learn more about the Target Market page in the Lighthouse Academy!

1. Sample Complexity Meter Elements
The Sample Complexity Meter auto-adjusts to show:

Time and day your survey will complete (this shows once you have saved progress for the first time)
Total cost of your survey: See How much does it cost? for details
N: Number of completes ordered
LOI: Length of Interview, or how long it will take for respondents to complete your survey
IR: Incidence Rate, or percent of panelists who will qualify to take your survey out of all attempts made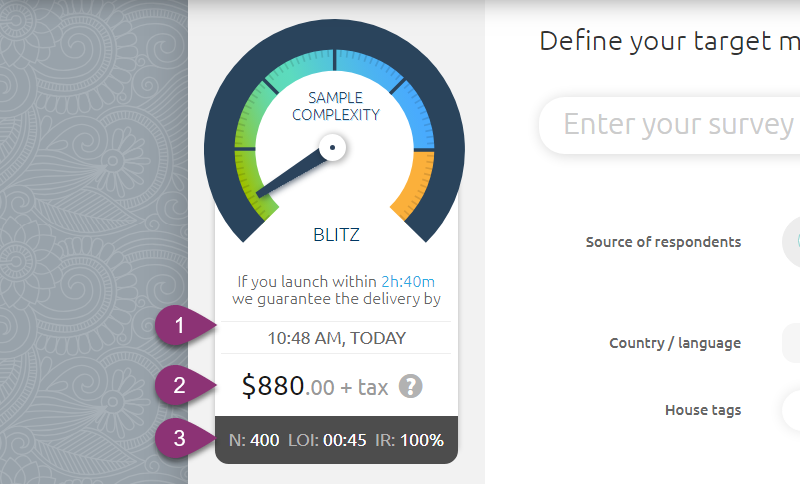 ---
2. How long will it take to complete?
Most surveys launched on the aytm platform are completed within 24 hours, but completion times vary from project to project, and are heavily determined by the feasibility of the targeting criteria.
The time and date listed in the Sample Complexity Meter is based on the time zone you are working in, and whether you launch the survey within three hours. Even if you don't plan on launching your survey within the time frame, the Sample Complexity Meter can give you an estimate of how many hours/days we expect the survey to complete. Once your survey is launched, it is immediately delivered to our panels. View real time data within minutes from the Surveys In Progress section of your Dashboard. Charts and graphs will take shape as people respond.
---
3. What is your delivery guarantee?
We guarantee that your DIY survey will be completed by the quoted deadline if you launch it within the specified timeframe. You will be able to see our turnaround time in our Sample Complexity Meter at the top left of any Target Market or Survey Editor page. If you plan to launch it later, no problem - we'll give you a new delivery guarantee.
If for any reason the survey runs longer than promised, you'll have the option to stop the survey and get the remaining prorated amount credited back to your aytm account for future use. We do not refund cash back to your credit card or ACH.
---
4. How much does it cost?
Survey cost is based on several factors, including the Length of Interview (LOI); the Incidence Rate (IR); any technical surcharges based on your membership level and extra features; and number of completions ordered, represented by N.
When inputting your audience specifications into the Target Market page, the Sample Complexity Meter and quote on the left side bar will adjust accordingly. If your audience becomes too complex, the Sample Complexity Meter disappears completely, and you will be prompted to call us to begin discussing a custom quote.
By default, your price includes all available demographic traits for whatever country you're fielding in, reported with every survey complete coming from our panel so you don't have to ask them separately.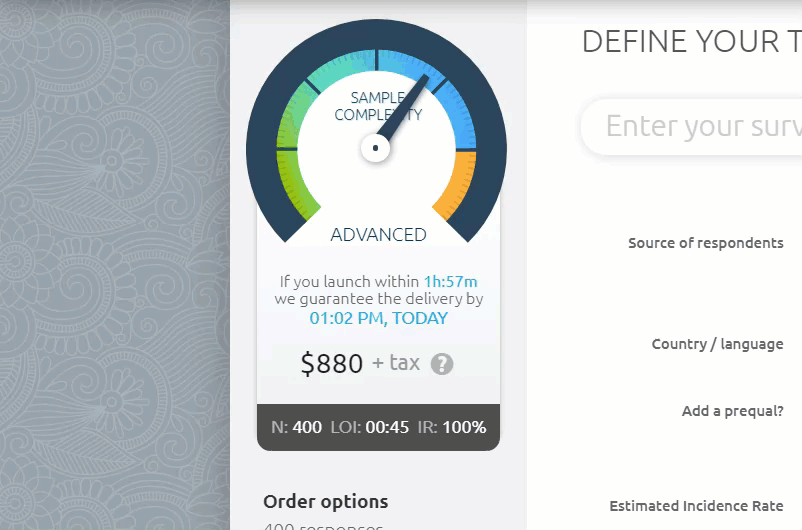 ---
5. Requesting a Custom Quote
If the Sample Complexity meter disappears on the Target Market page, this means that we will need to manually test feasibility. You can contact aytm support in order to receive a Request for Quotation (RFQ).
Please email the following information to support@aytm.com:
Name:
Phone:
Email:
Company:
Target Audience:
Survey Draft ID (if applicable):
Additional Information:
If you have any additional questions please reach out to support@aytm.com or click the chat bubble at the bottom right to start a conversation.