The Personality Radar allows you to make the next steps into understanding what your respondents have in common and how you can use this in your research by giving you access to our ever-growing database of over 3000 traits by which we profile our respondents. We analyze millions of data point combinations on the fly and present you a clear window into the statistically significant affinities between respondents' answers on your questions and their aggregated psychographic & personality traits.
You can discover, for example, that Nintendo owners are 62.7% more likely to be actively shopping for a new vehicle in early 2014 or that Republicans were 21% more likely to root for Broncos in the last Super Bowl (XLVIII). Play with it here.
Accessing Personality Radar
On the Results page, click on the Personality Radar icon on the right side of the floating menu bar at the top of the page. This will direct you to a new webpage.

---
Interpreting Personality Radar
Your Personality Radar includes a custom pie chart for each question in your survey. You will notice the full question at the top of the screen as well as each answer choice surrounding the outer rim of the circle.
Each answer choice includes a number of bubbles in each "slice" of the chart. These bubbles represent specific consumer traits that are represented within each respondent.
You can hover each of these bubbles to see which trait it represents. The larger the bubble, the more respondents identify with that particular trait. The bubbles located more towards the center of the circle are more universally represented throughout each answer choice.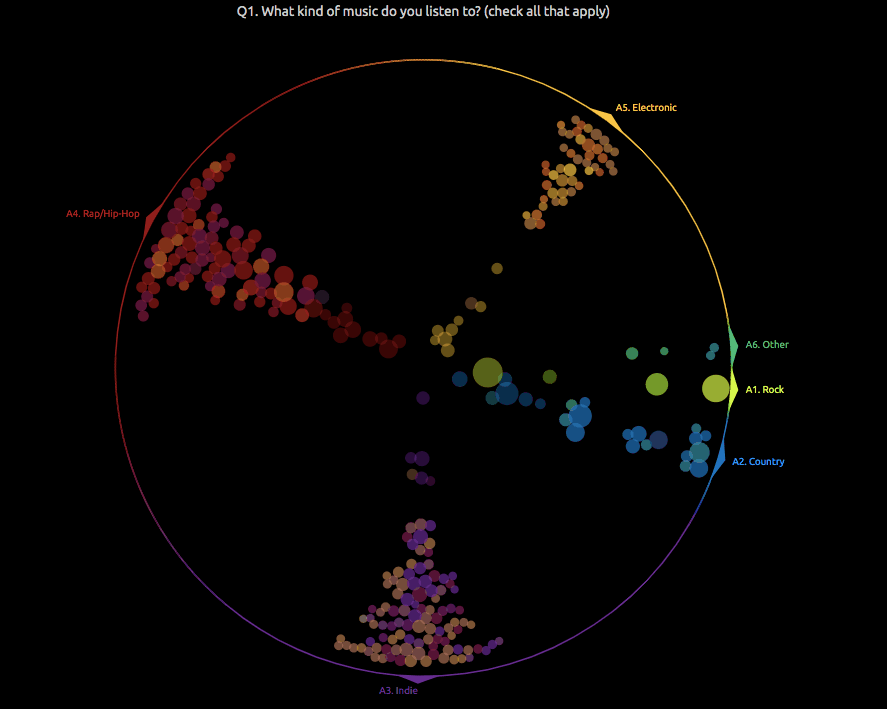 ---
Customizing trait bubbles
Click the View Mode tab on the left side of the Personality Radar to control the following display choices:
Jitter: how close each bubble is compared to the others in their category (do they overlap or are they spaced apart?)
Scale: size of each bubble
Contrast: do the bubbles occupy the whole pie graph or do they stay within their slice?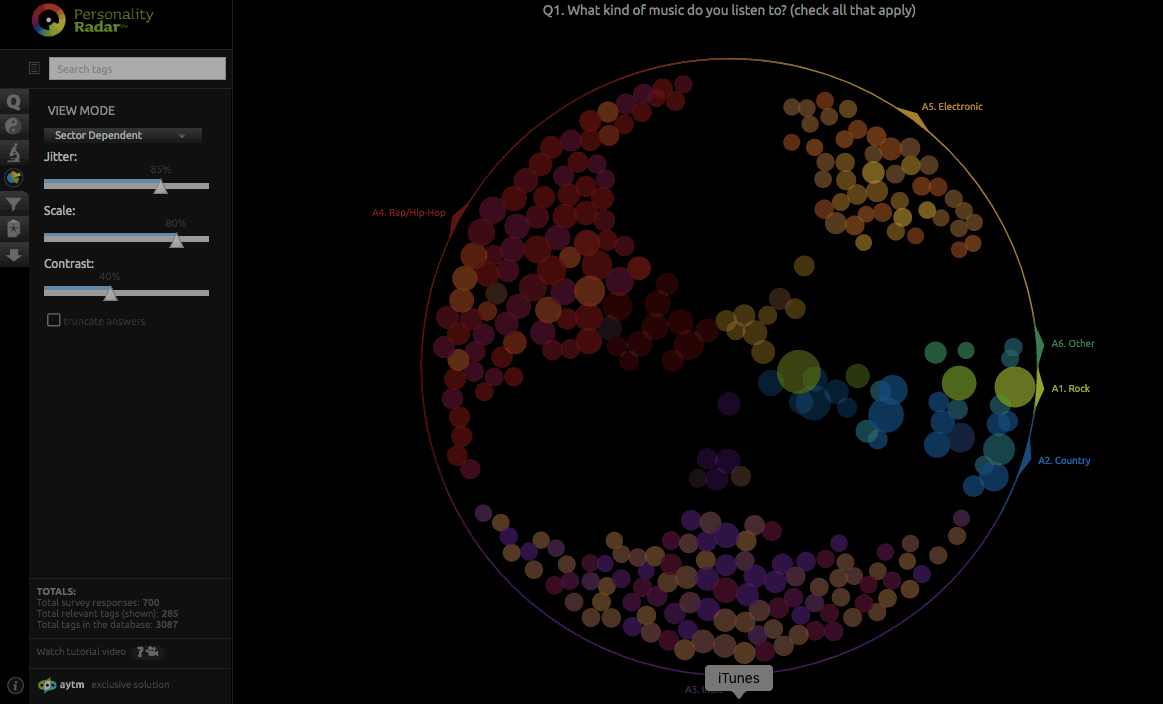 ---
Filtering
In the Filters tab, you can select specific consumer traits to view according to categories we have previously screened to respondents. For example, you can check off all categories pertaining to Media such as Brand awareness, Digital life, Gadgets & Devices, etc. to see the purchasing activities of respondents.

---
Downloading Results
Click the export icon in the left menu of Personality Radar page.
Select a PNG, PDF or EPS file to download a copy.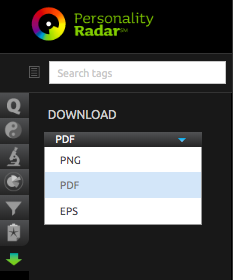 ---
Benefits of Personality Radar
You can uncover hundreds of data points that would be impossible to predict in any quantitative research environment otherwise. Allocate common personas by clustering their affinities in relationship to the brand/product/entity you're researching.
Very few brands can afford to ask their customers tricky personality questions, such as, "Do you see yourself rather lazy or hardworking?", Outgoing or Shy, Liberal or Conservative, yet actionable insights will make all the difference in success of a product launch, advertising campaign or a re-branding because you'd be able to appeal to their feelings. Gone are the days when survey analysis was limited only to the "demographic buckets" such as age, gender, income, employment, etc. Now you can really get into the shoes and heads of your target market and the best news is that you don't have to do any Big Data heavy lifting or rely on inferred social media/browsing data.
---
What comes with eligible aytm Panel Surveys?
Each eligible Panel Survey launched with aytm comes with up to 10 Personality Radar tags.
Available Categories
Personality Radar Highlights
Brand awareness
Digital life
Food & Drinks
Gadgets & Devices
Games
Green Life
Health
Hobbies & Interests
Home and Family
Life Changes
Media
Money Management
Personal Care
Personal habits
Personality
Phone
Politics & Religion
Purchasing Habits
Skills
Sports
Trait
Transportation
Travel
Work / Career

Breakthrough User Interface
~3000 data points on top of your survey data
Solid statistical analysis
Actionable auto-predictions written out in English
All personality and psychographic data is voluntarily self-reported
All tags are presented in aggregate to protect respondents' privacy
Raw numbers references
Tags polarity & most/least relevant tags mode
99%-80% Confidence Level sensitivity setting
Minimum & Maximum Tags IR controls
Min number of respondents per tag setting
Top Tags view modes
Proportional Power/Sector separated view modes
Jitter, Scale & Contrast View mode settings
Individual Radar views for each sub question of matrix questions
List View ranked by Tags Correlation to the answer choices
List View ranked by Tags Popularity
Robust filters by 24 categories
Search
Compatibility with Survey filters by demographics & answers
Secure sharing via smart URLs capturing view modes and settings
Export to PDF / PNG / Vector
If you have any additional questions please reach out to support@aytm.com or click the chat bubble at the bottom right to start a conversation. We look forward to hearing from you!