Adjusting Demographic Quotas on a Panel Survey
When Quota Groups is selected on a Panel Survey, you can target various demographic data, as available per country. US-based surveys can target respondents' Gender, Age range, Household Income, Ethnicity/Race, Education, Employment status, Career, Relationship status, Parental status, and Location, per quota group.
Learn more about adjusting demographics on the Target Market page in the Lighthouse Academy!

1. Using Quota Groups
If no changes are made to the default Quota Group, your survey will be organically fielded - there will be no balancing of any kind.
Click the respective drop-down menus and sliders to adjust the demographic traits of your target audience.
Click Add at the bottom of the group to add an additional quota group, or select a set of pre-configured groups from the Custom Quota Groups drop-down.
Click the N or % above the first Quota Group to toggle proportion View Mode.
Click in the text box to the left of a quota group to adjust the proportion of responses desired from that particular Quota Group. As you change the percentage or number, the proportions of other Quota Groups will automatically adjust.
Click the lock icon to reset quota group proportions.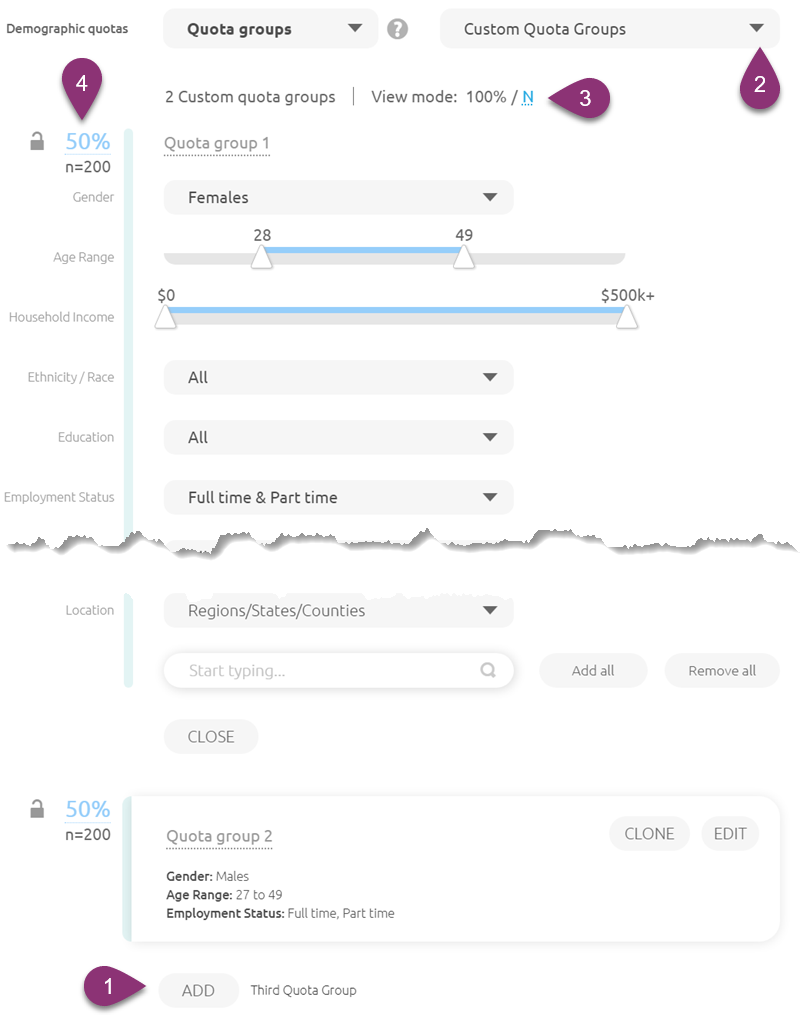 Pro Tip: Quota Groups are not limited to the United States. You can create custom quota groups for any of the countries and it's included traits offered on the Target Market page!
---
2. Setting up geo-targeting
For US-based surveys, click the Location drop-down and select Regions/States/Counties, Target by Metro Areas, or Target by ZIP codes.
With Regions/States/Counties or Target by Metro Areas selected, click in the search box to scroll through the list of available locations, or begin typing keywords into the field.
With Target by ZIP codes selected, type or paste relevant ZIP code(s) into the text box. Check the box next to Add 25 mile radius to target a radius around any code(s) included. Click the drop-down arrow to choose a different radius.
Note: There is a limit of 12,000 zip codes when using the zip code radius tool.

---
3. Using Quota Balancing (US surveys only)
Balance your survey by the 2018 US Census at the total level in non-nested quota groups on up to five demographics: Gender, Age range, Region (location), Ethnicity/Race, or Household Income. It will try to achieve the percentages listed within an acceptable tolerance for each trait individually.
Click the Demographic Quotas drop-down and select Quota balancing from the list.
Click the checkmarks to select 2 or 3 traits to balance by.
Note: If balancing by 4 traits, N must be at least 800. If balancing by 5 traits, N must equal at least 1,000.
Note: To use Quota Balancing you need a minimum of two demographics. If you only want to balance on one demographic use the Quota Groups.
---
4. Important Considerations
Quota Balancing requires a minimum of 400 respondents and can only be used when fielding surveys to US respondents.
Quota Balancing should only be used on surveys in which your target market reflects the US Census, and has an incidence rate above 75%.
To achieve the best fallout we recommend waiting until the survey completes to clean open-ended responses. You can wait until the survey completes to remove/reject and the survey will replace them automatically.
If you are looking for something more custom, or exact balance in the intersection of demographic traits you will need to use the Quota Groups option.
Note: this set of features only creates quotas on demographic traits. If you need to set a quota on a question in your survey, please reach out to chat or support@aytm.com for assistance.