Change Chart Color Palette

Customize your data visualizations with a preset color scheme or create your own! To access click on the rainbow icon on the left side of your reports page.
Preset Color Palettes
In the color options tab of the Left Menu, click one of the eight preset color options to change the color scheme in your survey results. This change will be reflected on the Results page, and on any future PowerPoint exports of that report.

---
Custom Color Palettes
You can create up to three custom color palettes per account.
Click Copy to the right of any preset color palette to start with those colors, or click add new below Custom Colors.
Click on each color tile to adjust the color with the color picker, or enter the Hex code.

---
Auto-generating color palettes
After the first color has been selected, click on that tile to reveal a drop-down with options for auto-generating a color palette. Select from:
Auto: random
Monochromatic: all the colors of a single hue
Complementary: mixed with the opposite hue
Zebra: split complementary, 2 opposite hues
Rainbow: every 30 degrees of color circle
Analogous: rainbow with different degree steps and shades
2. Click the refresh icon to shuffle the colors, or use the color picker on the first tile to change the hue.
3. Click save.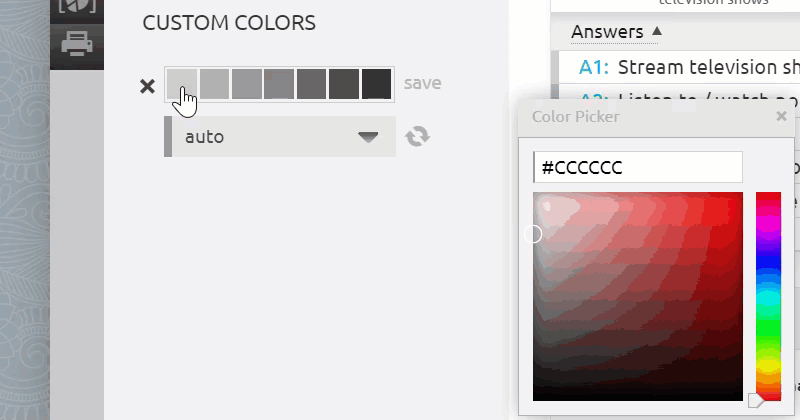 ---
Editing and deleting custom palettes
Hover over a color palette, and click edit, to the right of the row.
Click on the color tile you wish to change, and make adjustments on the color picker.
When all changes have been made, click update.
To delete a palette, click the X that appears to the right of the row, and select delete forever.