All users have multiple options to download their data into editable external reports. If the arrow associated with your preferred export has multiple lines, there are multiple options for export to choose from.
Exporting your reports
From the Reports page, click on the Export icon in the left menu.
Click on the associated export arrow to select from:
Survey Structure: a Word document of the survey structure (does not include any data)
Raw CSV: an un-formatted copy of all coded data, with question text
Excel: all coded data, including a set of data tables
*Excel with coded map: coded data with a data key
*SPSS: complete raw data for import into a statistical analysis software
*JMP: complete raw data for import into a statistical analysis software
Presentation: aytm-branded summary of results including survey order data, graphs in your chosen color palette, and links back to the live survey data; available in PDF, PPTX, and Keynote formats. Learn more about Powerpoint exports.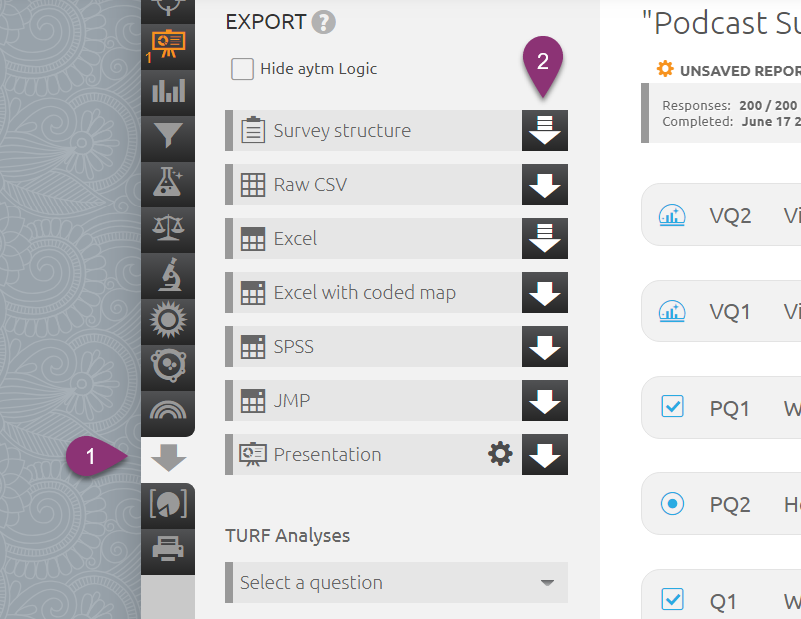 *Exports available to Max, Enterprise, and EDU users.
---
Research Test Exports
MaxDiff HB and Choice Based Conjoint Segmentation have additional data exports.
In the Results of a MaxDiff (HB only), click Download Individual Statistics & TURF, and select an option.
In the Results of a Conjoint (Segmentation only), click on the export icon to the right of the personas, and select a CSV download of Utility Scores, Ranked List of Packages, or Stacked choice data. Below the Conjoint Results, add packages and download an excel document of the Market Simulator.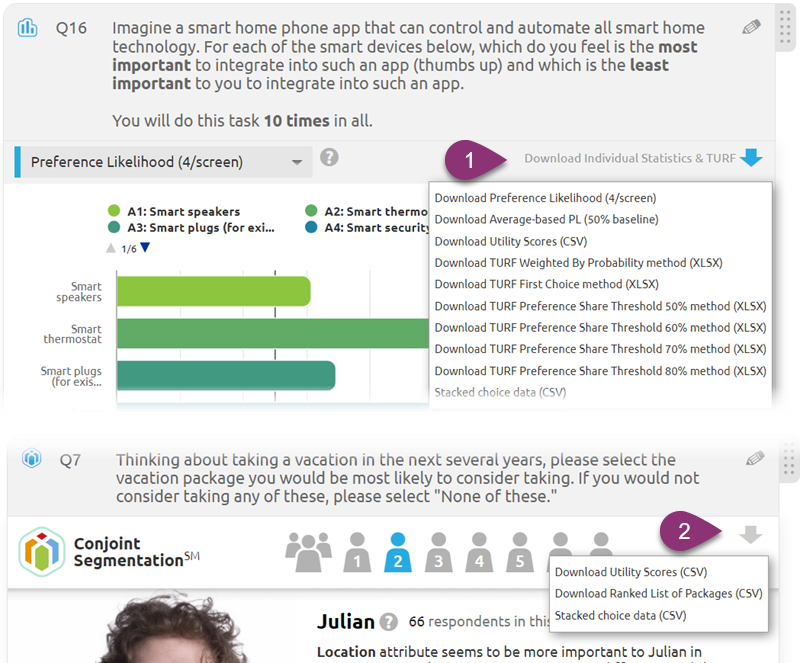 ---
TURF Analysis
Certain question types will also generate a TURF Analysis.
If a TURF Analysis is available for your survey, click the Export icon in the left menu.

Under the TURF Analyses label, click the drop-down and select the desired question.
Click the export arrow; if there are multiple options (e.g. Top box, Top 2 box), click on an option, and your download will begin.
Learn more about our TURF Simulator here.