Users with certain License packages can use Data Weighting to analyze their survey results.
1. Applying Custom Variable Weights
Starting at the Results Page, export a raw data file from your Original - as fielded survey results. Select either Raw CSV, Excel, or Excel with coded map.
Follow the rules of a custom variable upload, ensuring that you have at least the Response ID, and a corresponding column populated with a custom variable weight associated with each ID.
Title the variable column with the prefix "aytm:" followed by a name in 25 characters or less, that will help you remember what the weighted variable is.


Note: this name must be unique from other variables that already exist in the platform like date, gender, age, relationship status, etc.

Save the file as a CSV in order to upload it to the platform.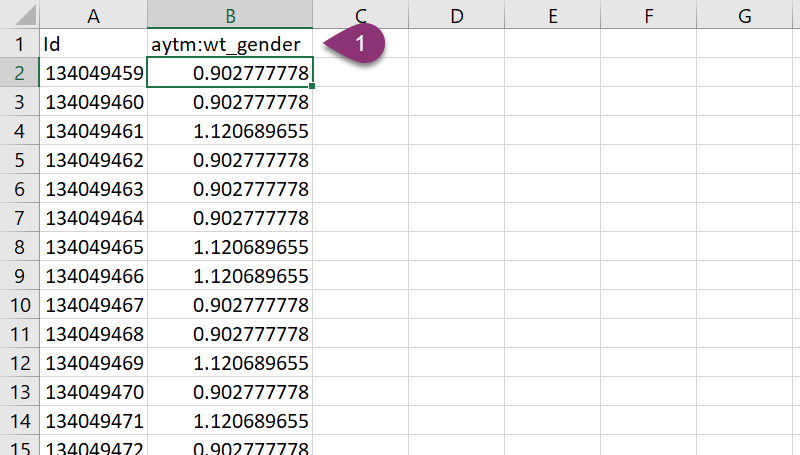 ---
The industry standard for weighting is RIM weighting, also known as raking. This method uses an algorithm to allow for weighting on multiple variables. If you have questions about developing an appropriate weighting scheme for your data, our Research Services team can help.
2. Weighting your results
Click the filter icon and scroll past any/all pre-populated variables to the bottom of the page.

Select Upload more variables, and upload the newly saved CSV.

Navigate to the Data weighing page by clicking on the scales icon in the left-hand menu.

Click the Choose weighting variable dropdown menu and select Weight by Custom variable.
Toggle the button next to Weighting is OFF to Weighting is ON. The data set will reload, and the selected weighting schema will be reflected in your results.
Click Save as to save a new report with the weighted data.
Note: The platform supports uploading multiple weighted variables. Upload new weighting schemas and save as new reports to toggle between report views.