How to create online surveys and get valuable consumer insights
Step 1: Choose your Panel source and define your Target Market
List Surveys
If you have a list of people you want to survey (such as your customers, your client's customers, sales leads, or social media followers), use our tools for free by creating a List Survey. Distribute the survey as a link in an email, tweet it, or even embed it as a widget on your webpage. When building a List Survey, you can choose from a predefined set of demographic traits such as age, gender, and household income, and append them to the beginning or end of your survey.
Data from all sources will be combined in the stats page as results stream back.
List Survey Demo Stats Page
Panel Surveys
If you prefer us to provide you with survey takers, create a Panel Survey and access over 100,000,000 people globally, available around the clock. Included in any US-based survey are 10 demographic criteria, with which you can further define your target market.
When building a Panel Survey, you can define your target market with two different techniques. Using the power of a psychographic pre-screening question, you can pinpoint your target market based on various media and purchasing habits as well as personality traits (over 2,000 such House Tags available). Want to survey consumers who love sushi, own an iPhone, and watch the Disney Channel? No problem. If you cannot find a psychographic characteristic in our House Tags, simply create your own custom pre-qualification questions. Panel Survey Demo Stats Page
As you adjust your target market, the needle on your Sample Complexity Meter will move to indicate sample complexity. We guarantee that your survey will be completed by the quoted deadline if you launch it within the specified timeframe. If you plan to launch it later, we'll give you a new delivery guarantee. If for any reason the survey runs longer than promised, you'll have the option to stop the survey and get 110% of the remaining prorated amount credited back to your aytm account for future use.
Lastly, choose the number of responses you'd like to receive for your online survey.

---
Step 2: Write your online survey
Once you've customized your target market, it's now time to write your survey.
Choose from up to 20 question types and 5 research tests, depending on your license level. It's easy to upload images into any question or answer to enhance your survey's appearance, drag and drop questions for easy cloning or reordering, and even collect webcam responses to add some qualitative flavor to your data.
The List Survey option gives you the tools to design and build a sleek, professional survey that will help you capture the results you need. Personalize your study by adding an optional message at the beginning and/or the end of the survey. With a few clicks, paid members can customize the survey with your logo, tag line, and color palette. Our theme editor is an easy-to-use tool which allows you to choose one of our background images or upload your own. You'll be able to preview and edit the way your survey will look and feel, and save your selected theme profile for future surveys so you can maintain brand consistency.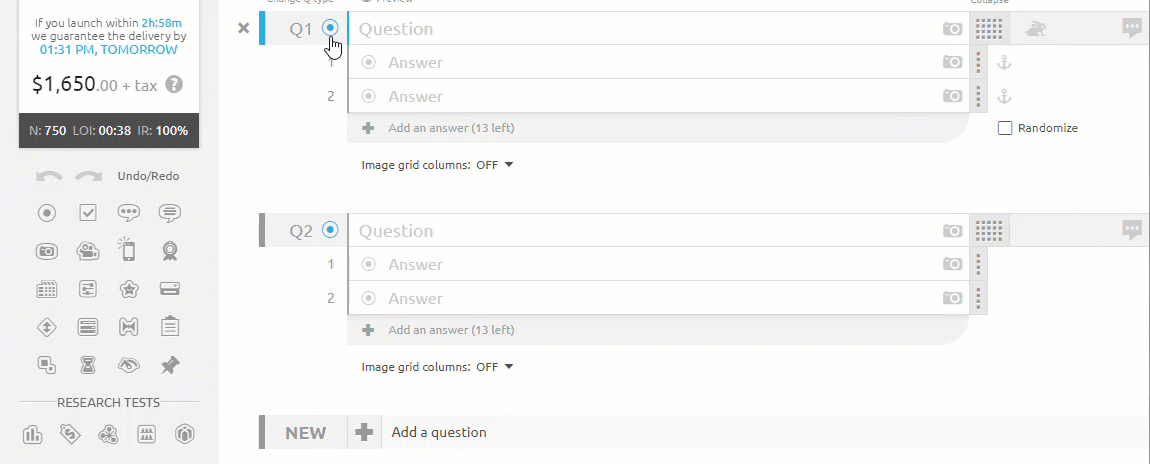 ---
Step 3: Launch your survey!
Finished writing and previewing your survey? Time to save it and launch! For your List surveys, we provide a URL that you can email to your contacts or post to social media, as well as an embed code for your website. Panel surveys are automatically sent into the field to our panelists, and responses will start streaming to your stats page.

---
Step 4: Get real-time updates as respondents answer your online survey
From your dashboard, view surveys in progress and completed surveys by clicking the Results page icon on the right side of the row relative to a particular survey.

---
Step 5: Turn your data into insights
Once your online survey has completed, it's time to make sense of the data. aytm offers numerous ways to quickly filter your data and displays the results in easy-to-interpret charts and graphs. If you're using our advanced research tests such as Van Konan Price Optimization modeling or Competitive Topography (perception mapping), you'll also have access to 3D modeling and automated analysis.
Graph data by parameters: Compare the way respondents of different age ranges, occupations, incomes, education levels, ethnicities, occupations, careers, or marital status responded in a single graph.
Show geography: See the location of respondents to your online surveys by clicking the map icon.
Filter data by parameters (visual representation of crosstabs): See only results from respondents based on Gender, Age range, Income, Ethnicity, Education, Employment status, Career, Relationship status, Parental status, and Location.
Select a color palette: Pick a color palette for displaying results. Choose one that reflects your company's colors to create branded reporting.
Export data: Export your data in CSV, XLS, or SPSS format. You can export the current view you've created, or you can choose to export all raw data. You can also export your data as a presentation-ready PowerPoint.
Share results: Share the results of your online survey with anyone including clients, business partners, subscribers, and vendors. When you share by email, your contacts will receive an email with a link to view the online survey results just as you see them in your dashboard. You can also post the link in an email you create, or on social media networks such as Twitter and Facebook. We even provide a sleek widget you can use on your website to share your survey results.
Print results: By selecting Print Current Report, a printable version of the entire report will be generated based on the viewing criteria you have selected. Select With cover page to include all of the criteria of your target market in your report.