My Dashboard provides you point-of-use access to your drafted surveys, the surveys you have in progress, and your survey results all in one place. Use My Dashboard to easily navigate, organize, and access your surveys as you develop and field them.
My Dashboard organizes your surveys into three categories:
Surveys in progress - provides a list view of all the live surveys you have in field.
Drafts - provides a list of the unpublished surveys you are programming.
Completed - provides a list of surveys that have finished fielding with the respective results.
1. Accessing My Dashboard
Hover over Dashboard in the main navigation across the top of your screen.
Click My Dashboard.

---
2. Accessing Your Surveys
Click the headers on this page to see a listed-view of the surveys in each category.
Click the gear icon on the right hand side of each row to open a menu of actions related to the respective survey.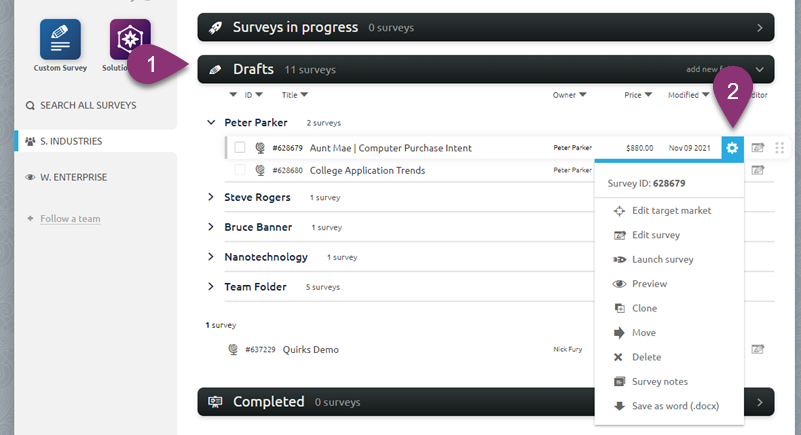 ---
Organize your completed surveys and survey drafts by adding folders.
3. Adding Folders to Your Dashboard
Hover over the left-hand side of the Drafts header or Completed header to illuminate the add new folder option.
Click add new folder.
Hover over the newly added folder to illuminate the pencil icon and click to edit the name of your folder.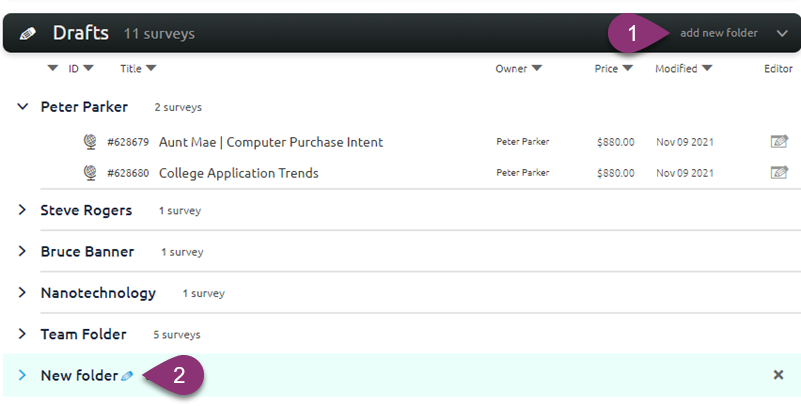 ---
4. Moving Surveys into Folders
Hover over the far right-hand side of a survey that appears in your Drafts or Completed categories.
Click the dot-grid and drag the survey over the folder where you would like to put it. The active folder will highlight with a blue hue, designating your drop target.
Drop the survey in the active folder to store it as a nested asset.