Following & Joining a Team
Max users have the ability to build different teams within their organization-level account. Following a team gives users visibility and limited access to the surveys produced by adjacent teams and teammates within the same organization (such as previewing surveys, cloning surveys, and accessing completed survey results), whereas functions such as editing, deleting, and moving surveys are reserved for survey owners and direct teammates.
1. Following a Team's Dashboard
Click on the

Follow a team

button, below your team's name. This will activate both a drop-down menu of visible teams and a search field.

Browse or search for the name of the team you would like to follow and click on it. The team is added to your list of teams in the left side bar and is represented by the eye icon.
Only visible teams can be followed; the Follow a team list will not contain hidden or "stealth teams" within the platform.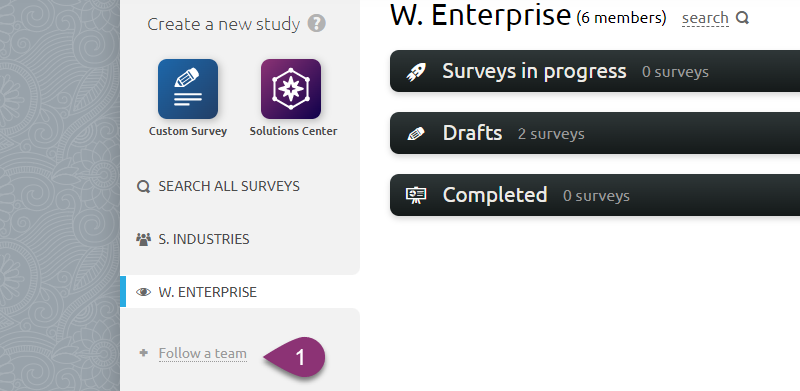 ---
2. Un-Following a Team's Dashboard
Hover over the team's name in the left side bar to illuminate an

X.
Click the X to unfollow the team and remove it from your sidebar.

---
3. Joining a team
In order to request to join a team, you must first follow the team's dashboard.
Click the name of the team you would like to join from the list of teams you are following.
Click Join the team in the header of the respective team's dashboard.

---
4. Approving or Deleting join requests
Team Administrators will see requests to join their team on the My Team page. These will be marked pending in the status column.
Click the gear icon in the row of a pending team member to approve or delete the request.
Click the Approve request or Delete request button based on your selection.