About Incidence Rates (IR)
It's important to understand the incidence rate or predicted incidence rate of a potential survey as it impacts feasibility, fielding time, and cost.
What is Incidence Rate?
Incidence Rate is a measure of the rate of occurrence or the percentage of persons eligible to participate in a study.
For example, in a study of American vehicle owners, if the eligibility of research is defined as "owning a vehicle", then an Estimated IR will be the percentage of Americans who own a vehicle, out of the total number of Americans (meaning whether they own a vehicle or not).
In other words, to calculate incidence in the contact of market research, the formula is:
The total number of qualified respondents divided by the total number of respondents 
who were screened for the study (qualified plus non-qualified).
---
Estimated Incidence Rate
From the Target Market page, click the Please select an IR drop-down to select an Estimated Incidence Rate. This drop-down is also available on the Survey Editor page.
You will not be able to launch your survey without selecting an Estimated Incidence Rate. Actual IR will be determined after your survey is in field and collecting completes.

---
House Tags vs. Pre-Qualification Questions
aytm's House Tags come with a maximum IR, since we have profiled our panelists by these traits and are familiar with the IR associated with each.
If you choose to use your own Prequalification questions, or a combination of House Tags and Prequals, you will need to estimate your own IR, since our system can't predict the IR for your questions.
Generally speaking, the more screening questions added to a study, the lower the overall IR becomes. Remember, the incidence rate is the percentage of people who qualify for your survey after screening questions.
On the Target Market page, click into the 2300+ House Tags field to enter search terms, or begin scrolling through the available House Tags.
Alternatively, on the Survey Editor page, click Add a Prequal.
---
Need help estimating IR?
It's essential to set an estimated IR for a survey, as it will help determine feasibility (can you reach people in your target market), fielding time (how long will it take the survey to complete), and how we manage inviting people from our panel to participate in a survey. If you are not sure, try these methods for estimating IR.
Internal Company Data:

Leverage any internal company data to help determine the incidence rate. If applicable, leverage any previous market research, mine your client data, or pick your co-worker's brain.

Online Research:

Google it! If the target is already well-researched or a popular topic, it's possible to find statistics on your market after a quick internet search. There are even paid services that have databases of stats to help you determine incidence. If you go this route, be sure that your source of data is reliable.

Run an IR test survey: You can run a short survey that uses the exact screening questions you plan to use as regular survey questions. Then launch to the general population; 100-200 respondents is usually sufficient. Then you can filter the results to narrow down who would qualify for your survey to determine the incidence. Please reach out to our support team for help with launching an IR test survey.
---
aytm's Predictive Sample Complexity Meter
aytm's Sample Complexity Meter helps determine the feasibility, turnaround time, and cost for your survey on the fly. When you open a new Target Market page, you will see the Sample Complexity Meter at the top left.

As you set up your targeting criteria by filtering demographic traits and adding screening questions, the Sample Complexity Meter will update in real time.

Above the survey cost, you can see how long your survey will take to complete. If you hover over the N, LOI, and IR, you can see the definitions for each. Each of these elements contribute to the cost of a survey.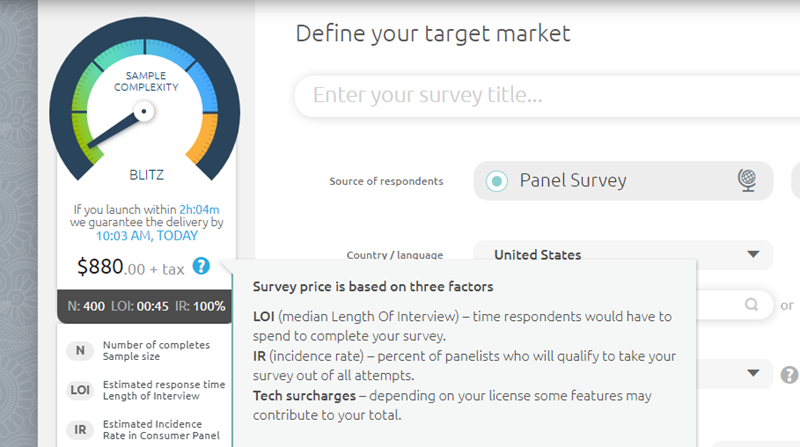 If you have any questions about determining the incidence rate of your survey, don't hesitate to reach out, start a chat, or email support@aytm.com for assistance.