Countries and Languages Supported
aytm's proprietary panel reaches over 50 countries, and supports over 30 languages.
Learn more about targeting your audience in the Lighthouse Academy!

1. Selecting Country and Language
On the Target Market page, click the Country drop-down to select the country in which you would like to field your survey.
If multiple languages are available for the country you've selected, click the Language drop-down to select the language in which you would like to field your survey.
Note: Language selection translates only the platform text; all translated survey body text must be provided you or your team. If you need a survey translated please reach out to support for a quote for our translation services.
If selecting a language other than English, click Show me in English to view the demographic traits on the Target Market page in English. Respondents will still see trait questions in the selected language.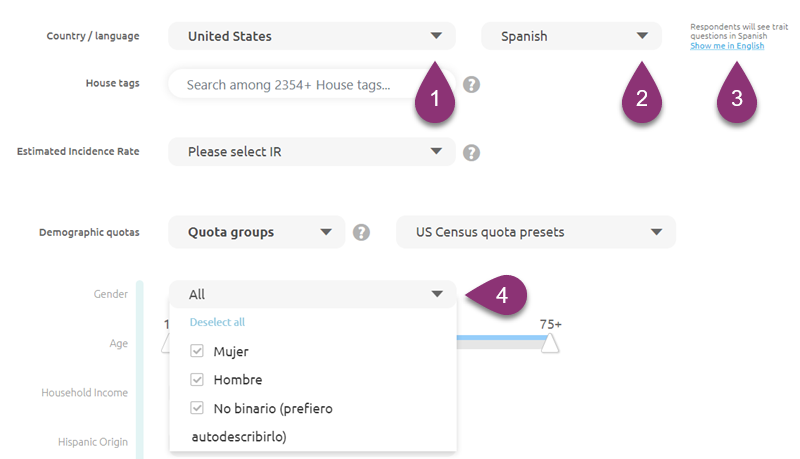 Note: Each country or language you need requires a separate survey. If you are working on a multi-country study and would like us to manage the project for you, email us at
support@aytm.com
to discuss.
Here's a list of the countries we can reach from the Target Market Page:
United States
Argentina
Australia
Belgium
Brazil
Bulgaria
Canada
Chile
China
China-Hong Kong
China-Taiwan
Colombia
Denmark

Ecuador
Egypt
Finland
France
Germany
Greece
India
Indonesia
Ireland
Israel
Italy
Japan
Kenya
Malaysia

Mexico
Netherlands
New Zealand
Nigeria
Norway
Pakistan
Peru
Philippines
Poland
Portugal
Puerto Rico
Romania
Russian Federation
Saudi Arabia (KSA)

Singapore
South Africa
South Korea
Spain
Sweden
Switzerland
Thailand
Turkey
UAE
Ukraine
United Kingdom
Venezuela
Vietnam
Here's a full list of our supported languages:
Arabic
Bulgarian
Chinese (Simplified)
Chinese (Traditional - HK)
Chinese (Traditional - TW)
Danish
Dutch
English
English (CA)
English (EU)
English (UK)

Finnish
French
French (CA)
German
Greek
Hebrew
Hindi
Indonesian
Italian
Japanese
Korean
Malay

Norwegian
Polish
Portuguese (BR)
Romanian
Russian
Spanish (MX)
Spanish (US)
Swedish
Thai
Turkish
Ukrainian
Vietnamese
If you don't see the language or country that you need, please reach out to support@aytm.com to begin the process for receiving a custom quote.
---
2. Selecting the Worldwide Panel
On the Target Market page, click the Countries drop-down menu and select Worldwide Panel to access our worldwide panel of English-speakers.
Note: The Worldwide Panel is only available for Panel Surveys. Additionally, while some custom demographic quotas are available, we cannot guarantee or set quotas on the number of respondents from each country. If you need a specific number of respondents, we advise you to create a separate survey for each country you wish to target.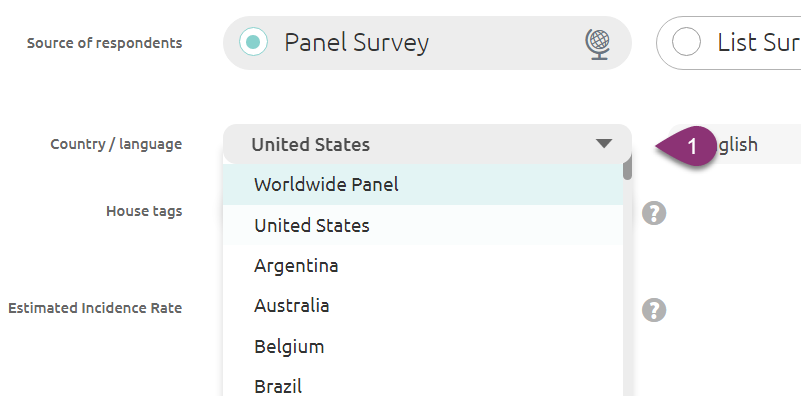 Countries Included in the Worldwide Panel:
Argentina
Australia
Belgium
Brazil
Bulgaria
Canada
Chile
China
Colombia
Denmark
Ecuador
Egypt
Finland
France
Germany

Greece
Hong Kong
Hungary
Iceland
India
Indonesia
Ireland
Israel
Italy
Japan
Kenya
Malaysia
Mexico
Morocco
Netherlands

New Zealand
Nigeria
Norway
Pakistan
Peru
Philippines
Poland
Portugal
Romania
Russia
Saudi Arabia
Serbia
Singapore
South Africa
South Korea

Spain
Sweden
Switzerland
Taiwan
Thailand
Turkey
UAE
Ukraine
United Kingdom
United States
Venezuela
Vietnam
Zambia