Virtual Questions (VQs) allow you to step beyond the survey structure as it was fielded. VQs can be used to aggregate responses given on the same or different questions of a survey, create custom demographic splits, combine top 2 box and more! VQs can be added anywhere in the survey and move them by simply dragging and dropping like you would a question in the Survey Editor.
VQs will function similarly to normal questions - you can filter, export and use them with Crosstab or Sig Testing. VQs will be saved locally in your browser as you create them. To save them on the server and share with others, create a shareable Report.
Adding a VQ to Your Survey
On the Results page, click the Data Lab tab in the left menu.
Click the Virtual Question bar to add a VQ to your report, or drag it into place between questions.
Note: A Virtual Question can be added at any point in your data no matter what questions they are pulling from.

---
Customizing your VQ
Click the pencil icon in the upper right corner at any time to edit the name of your Virtual Question.

Click the

Single Choice

drop-down to select the data output you'd like to aggregate, from

Single choice

,

Multiple choice

, or

Matrix single choice

.




-

Single choice

and

Multiple choice

selections allow you to combine answer choices to create fewer answer "buckets" from existing single and multiple choice style questions, comparing these new categories to other new categories, or demographic traits.




-

Matrix single choice

allows you to combine different questions from your survey, treating them each as "sub questions" - as though you originally asked the question as a

Slider

or

Progressive Matrix

- receiving output features like box scores, means, etc.

Click the first drop-down in the A1. row to select a demographic trait or survey question.
Click the next drop-down to add further criteria to compare. For most questions types, click an answer option once to include (blue + ), twice to exclude (red -), or three times to reset to default.
Type a label for that element in the chart into the Please type a label... field.
Click the box next to Everyone else to simply compare the A1. parameters against all others in the survey, or continue populating Answers. Each additional Answer row will create a new column in the resulting VQ chart.
Click Generate data.
After generating the chart, the VQ becomes an active part of your survey data exactly, like any other question; VQs are available for use in filtering, exports, and custom banners for Crosstab Analysis.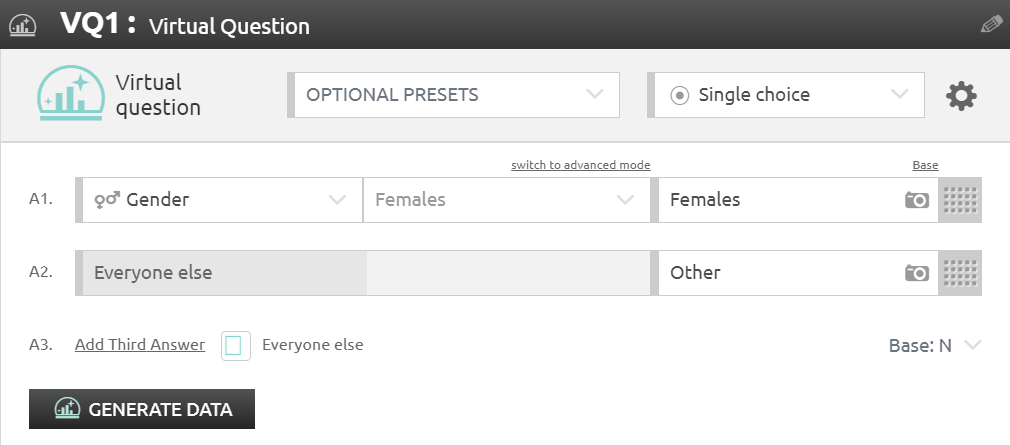 ---
Optional Presets
You can create a Single choice or Multiple choice VQ based on variable data from your survey. Append data as variables using the Custom Upload feature, or use the data provided on device, browser, and platform as variables. All these variables will populate in the Optional Presets and can be used to populate a VQ.
Group Logic: If a survey has [group] logic or you use Smart Loops to program your survey, VQ Optional Presets will detect the question nodes and look for comparable questions within each node. Questions display in this list only when each node is identical in structure (e.g.: first node's first question is a single choice question with 5 answer scale and a radio button with 5 answer scale at the beginning of the second node).
Top 1 or Top 2 Boxes: For certain questions, after you select the group, you will have the option to select Top 1 or Top 2 Boxes at either end of the answer list. We offer Top Boxes aggregation on both sides of the Likert scale to accommodate both directions you may have used while programming your survey - with most positive options being in the beginning or at the end of the list of possible answers.
The last drop down will help you automatically populate labels and images for your VQ answer variants.
Auto text: this option identifies question sets grouped with logic, or in a Smart Loop, and if it finds questions with small differences in otherwise identical text, it uses those. In a Smart Loop, the variables in the table are the differences it finds.
Auto text + images: this option does everything listed above and will also populate the images that correspond with the question.
NOTE: Auto-text cannot detect differences within logic statements, such as aliases or variables; it can only find differences in the question text.

Q text: this option will populate the full question text.

Q text + image: this option will also populate the corresponding images in addition to the full question text.

Images: The platform will automatically pull images that correspond with questions used to populate the VQ. You can also click on any image or camera icon in a VQ label to open a menu with all images from that survey. To remove an image, scroll to the bottom of the list and select no images.
Demographic Traits: Demographics are available with every Panel survey, but the number and type varies by country. In a List Survey, Demographic traits will only populate for traits for which you selected ASK on the Target Market page. Preset demographic trait groups will automatically populate in the Optional Presets drop-down.
Nested Quotas: If you used the Nested Quota feature (under Demographic Quotas) on the Target Market page you will be able to use the Optional Presets to quickly populate a chart. Each group created on the Target Market page will populate as an answer line in a VQ. In this example nested quotas were created for relationship status and gender. The custom quota groups on the left match the VQ answer variants on the right to populate the VQ.
Note: only quota groups created on the Target Market page prior to launching the survey will be reflected in the Optional Presets. If quotas were changed or added during fielding they will need to be created manually.
Variables: You can append data as variables using our Custom Upload feature, and we provide data on device, browser, and platform as variables depending on the survey. All these variables will populate in the Optional Presets and can be used to populate a VQ.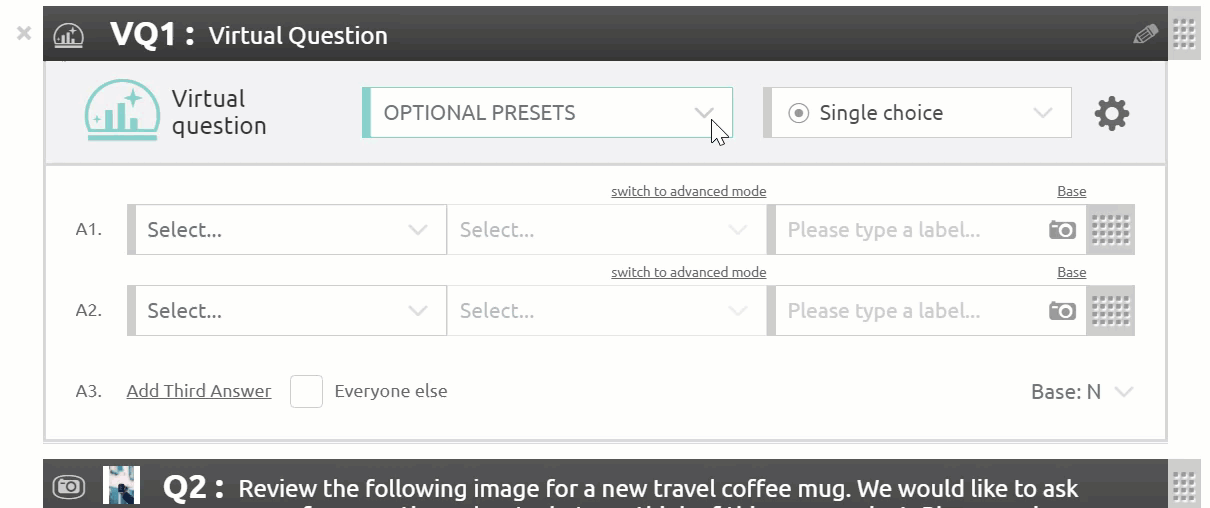 ---
Matrix Single Choice
Indicating Matrix Single Choice will allow you to combine different questions from your survey, and treat them each as "sub questions" - as though you originally asked the question as a Slider or Progressive Matrix.
The default view, Stacked 100%, shows answer percentages stacked in color-coded columns, with expandable data on the sub-question level displayed below.
Click the

Stacked 100% drop-down to choose another visualization, from Stacked counts, Means, or Box Scores.
- Stacked Counts shows the actual number of respondents who gave each answer along the y axis. If the base size of all sub questions is the same, this visualization will not differ much from the Stacked 100% view.
- Means shows the averages for each sub-question compared side by side, with drill-down statistics for each sub question.
- Box Scores shows calculations for Top 1 box, Top 2 box, Top 3 box, top weighted, Bottom 1 box, Bottom 2 box, Bottom 3 box, and Bottom-weighted.

Note: Click the help bubble next to the selection to see how it is calculated from the responses. As you make selections in this drop-down, keep in mind that the "top" recognized by the system will always Answer option One, and the "bottom" recognized by the system will always be the last answer option you programmed.

Make sure to save your Virtual Question work as a new report or Save As to your current custom report! You'll be able to share it with colleagues or access it yourself at a later time. Learn how to save a Custom Report here.
Learn more about Virtual Questions: