Adding Custom Prequalification Questions
Custom Prequalification questions help qualify or disqualify respondents for your survey, are available for surveys in all countries, and can be used in conjunction with House Tags.
Learn more about targeting your audience in the Lighthouse Academy!

1. Adding Custom Prequals to your survey
On the Target Market page, click the Custom Prequal button to add as many Prequals to your survey as desired. Prequals will be configured from the Survey Editor.
On the Survey Editor page, click the Add Prequalification Question button at the top of the survey.

---
2. Customizing Prequals
On the Survey Editor page, click the radio button icon to the right of PQ# to choose a Single choice prequal, Multiple positive choices prequal, or Multiple negative choices prequal.
Type or paste your prequalification question into the Question field.
Type or paste your answer options in the Answer fields, and use the + button to add answer options.
Click the green Allow or red Disqualify to toggle which responses will advance or disqualify a respondent from your survey.
- For a Single choice question, click Allow or Disqualify to the right of any answer option.
- For Multiple positive choices, click (-----) to the right of an answer option to accept respondents. Respondents will be disqualified if they do not select at least one of the Accept answer options.
- For Multiple negative choices, click (-----) to disqualify the respondent. Respondents who select any of the Disqualify answer options will be disqualified.
Click the checkbox to Randomize answer options.
Click the checkbox to add a mutually exclusive N/A option to multiple-choice PQs.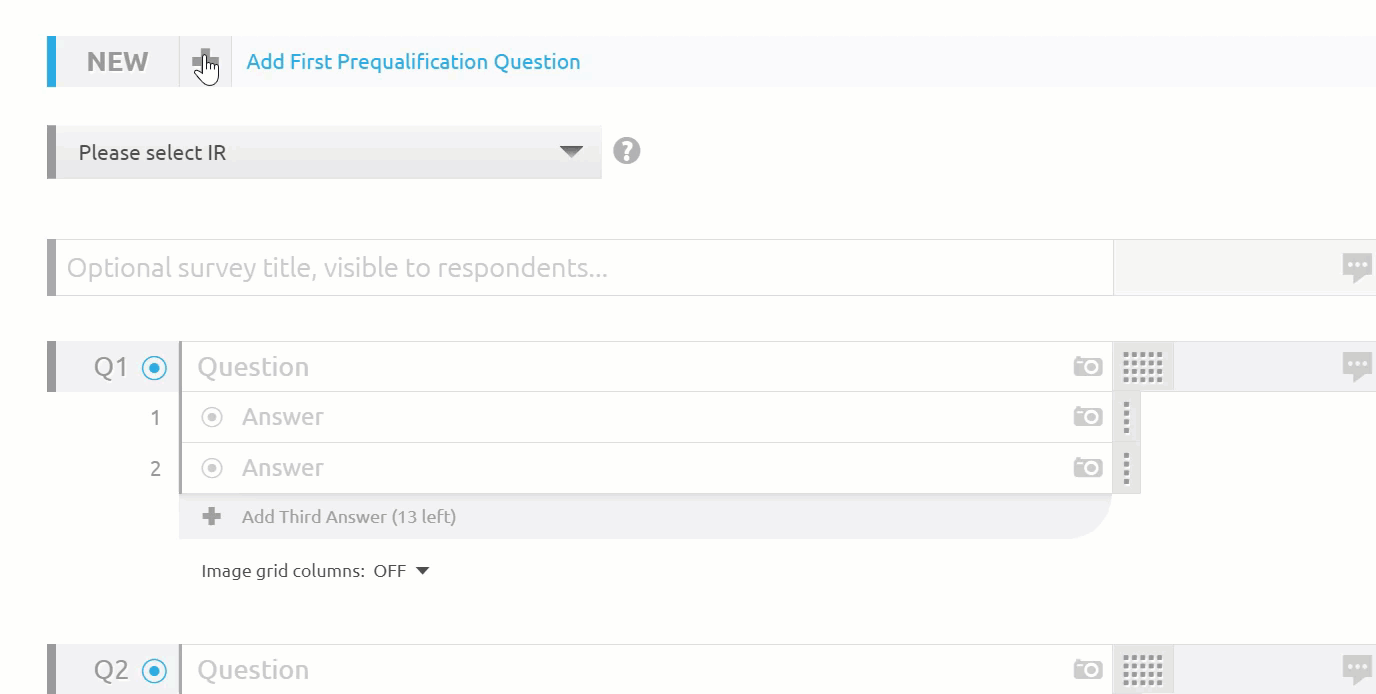 Go more in-depth with Pre-qualification questions in Types of Prequalification Questions.