Open Ended Responses: Searching and Filtering
When viewing open ended responses, you can set parameters to view specific subsets of data.
1. Searching terms in your responses
Type a specific term or phrase into the search bar, press enter to finalize the word selection, and then press enter again or click the magnifying glass to search the comments.


Note:

Your search terms will automatically be highlighted within the search results. Click the ellipses to the right hand side of the filter tools in order to access the menu and de-select the

Highlight search terms

option to view results without search terms highlighted.

Click

the X

relative to the search term to reset results and return to

All comments

.


Note: It is possible to search by response ID, but the results will show ONLY the responses provided by a particular ID—

if you're looking to pick up where you left off, you may want to sort by time, and use the Find feature in your browser instead.
Responses are shown in the order that questions were programmed in the survey. If you used group logic or randomization, you can also view responses in the order an individual respondent viewed them by clicking the ellipses menu to the right of the avatar icon, and toggling to Qs in response order.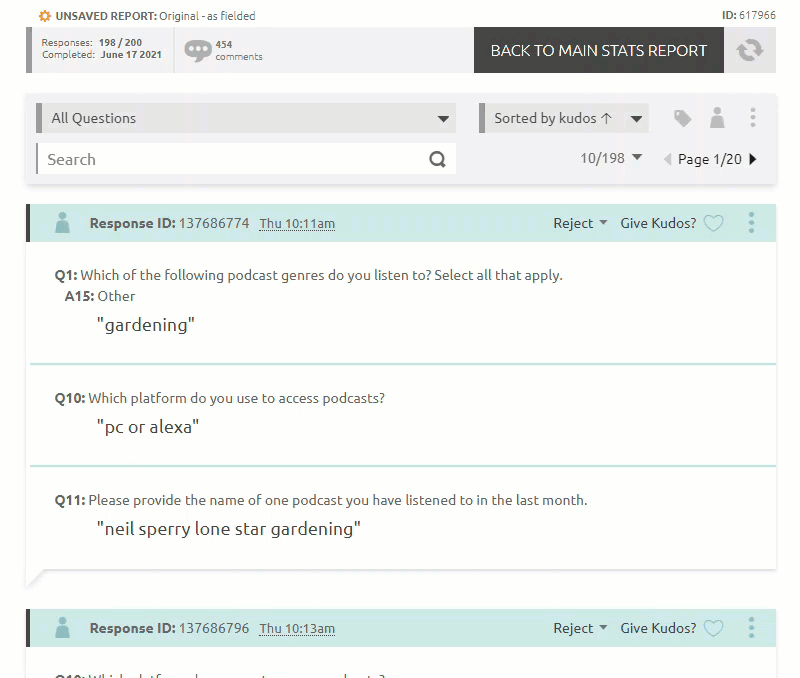 ---
2. Creating a custom Filter
Activate a search term or filter by a specific question.
Click the ellipses in the search and filter tools, and select Create filter. This will activate the advanced filter mode and pre-populate the logic under the Filters Menu.
Select Click here to apply filters and then save as a new report (or save to your current custom report), as desired.
Click Back to main stats report to view the survey by this filter, or select Release active filters button to remove the custom logic. (This will not clear your search terms.)
Click on the X next to your search term(s) to reset the results.