Open Ended Responses: Overview
Elicit written feedback from survey respondents by using Open-ended questions.
1. Accessing Open Ended Responses
To view all fielded results, begin from the Stats page in the Original - as fielded default report.
Click on the conversation bubble icon below the header.
Click the drop-down menu to the right of the search bar to view 50, 100, or 250 comments per page.
Navigate between pages using the arrows to the left and right of the page number.

---
2. Filtering Responses
Click the All Questions drop-down menu in the filter tools, and select a specific question or variant from the list to narrow down the view of available responses.
Click the drop-down again, scroll to the top, and select All Questions to remove the filter.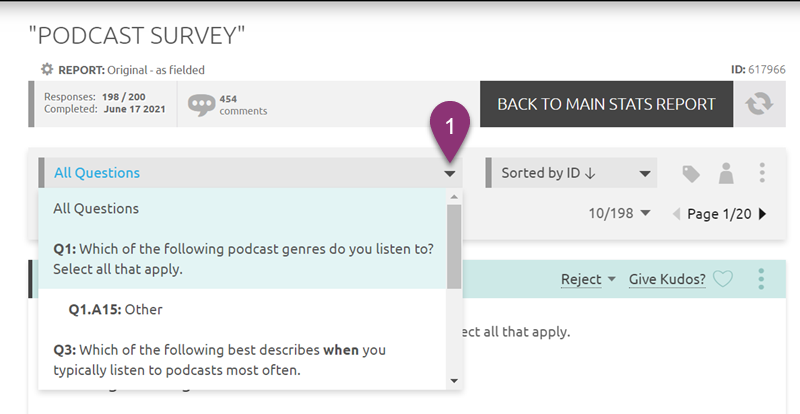 ---
3. Sorting Responses
By default, responses are Sorted by ID, and group together each respondent's answers for all open ended questions asked in the survey, starting with the first response recorded.
Click the Sorted by ID drop-down menu in the filter tools to view alternate sorting options.
Select Sort by time to organize based on the time each response was logged. The down arrow indicates that the oldest comments are displayed at the top; toggle the down arrow to display newest comments first.
Select Sort by length to organize open ended responses by the number of characters in the response.
Select Sort by kudos

to show comments with Kudos first, in descending order, or show comments with kudos last.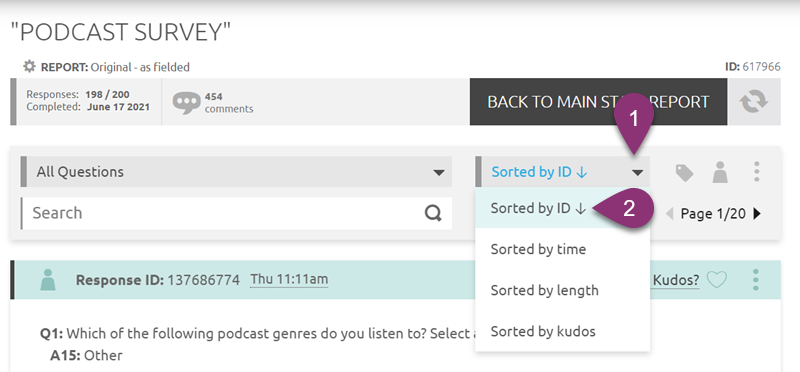 ---
4. Showing Traits
There are two ways to view the traits of a respondent on the open-ended comments page.
Click the avatar icon in the menu at the top of the page to see traits for every respondent.

Click the icon again to hide traits.

Click the avatar icon to the left of an individual Response ID to see traits for just that individual. Click the icon again to hide traits.